There is controversy surrounding Keaton Jones' mother, and apparent strangers purporting to be Keaton's mother trying to cash in on the viral moment.
Kimberly Jones has not responded to BuzzFeed News inquiries, and she's deleted or privatized most of her social media presence. However, someone running an Instagram account claiming to be her has been responding to followers of Keaton's story and sharing donation channels for Keaton.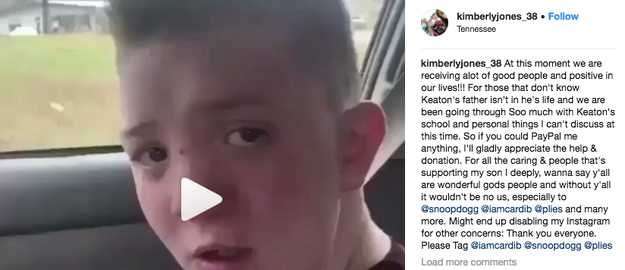 On Sunday, the account @kimberlyjones_38 reshared the viral video of Keaton along with a vague description of a tenuous relationship with Keaton's father.
"For those that don't know Keaton's father isn't in he's [sic] life and we are been going through Soo much with Keaton's school and personal things I can't discuss at this time. So if you could PayPal me anything. I'll gladly appreciate the help & donation," she wrote.
People have also created other donation channels for Keaton and her mother. One GoFundMe campaign titled "Stand Up for Keaton," created by a man named Joseph Lam, has raised over $58,000 of a $20,000 goal.
A spokesperson for GoFundMe told BuzzFeed News they are in contact with Lam "to ensure all of the funds raised go to Keaton."
People in the comments wondered why "Keaton's mother" would be trying to raise money and what the funds would be used for.


Some cast doubt over whether the Instagram post or account was authentic. They began directing people to another Instagram account claiming to be Kimberly.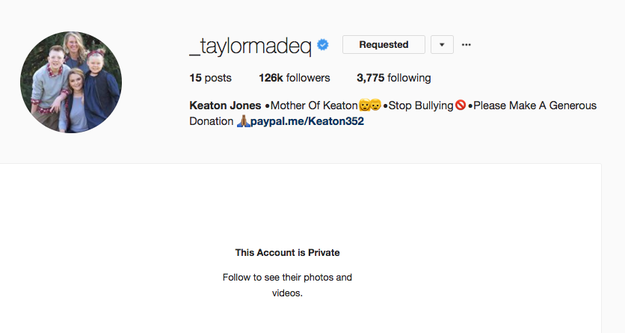 This account had a verified check, 126,000 followers, and a different PayPal account in the bio.
Instagram
However, the handle @_taylormadeq has had ties to different personalities and photos in the past.
BuzzFeed News has reached out to both accounts and flagged the accounts to Instagram.
PayPal has also been made aware of the different PayPal accounts tied to these different Instagram accounts. The company told BuzzFeed News they are investigating the matter.
Instagram / via Twitter: @ash_bailey6163
The two accounts now seem to be interacting with each other — but the original kimberlyjones_38 account maintains that they are the real Kimberly Jones and have asked followers to report _taylormadeq.
Source: https://www.buzzfeed.com/usnews.xml