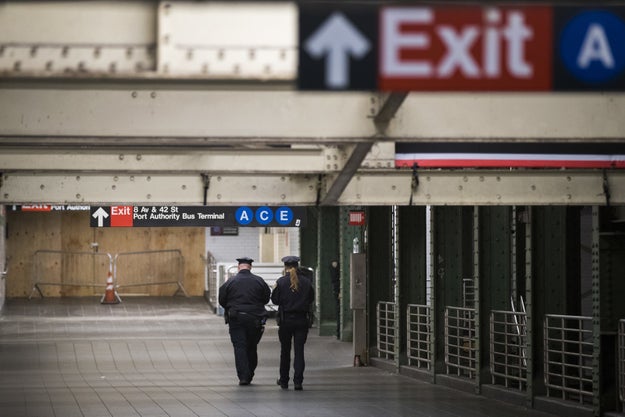 Drew Angerer / Getty Images
The man accused of detonating a pipe bomb strapped to his body inside a New York City subway station on Monday posted on Facebook shortly before the attack, "Trump you failed to protect your nation," federal prosecutors said.
Akayed Ullah is charged with five federal counts, including detonating a weapon of mass destruction and providing material support to ISIS, according to a federal complaint released Tuesday.
The U.S. Attorney for the Southern District of New York will hold a press conference Tuesday to formally announce the charges.
According to investigators, on Monday, at 7:20 a.m., an improvised explosive device was detonated inside a subway terminal near New York City's Port Authority bus terminal at West 42nd Street and 8th Avenue in Manhattan.
Shortly after the attack, Ullah was discovered by police lying on the ground in the area of the blast. He was taken into custody.
Police found a nine-volt battery inside Ullah's pants pocket, wires connected the battery running under his jacket, two plastic zip-ties, several fragments of metal pipe, metal screws, and fragments of a Christmas tree lightbulb.
Ullah was taken to a local hospital to be treated for injuries, including burns to his body. Three other people were treated for minor injuries.
At the hospital, Ullah was interviewed by investigators. Based on his statements, investigators believe that he constructed the pipe bomb at his Brooklyn residence about a week before he carried out the attack..
In addition, Ullah told investigators from his hospital bed, "I did it for the Islamic State."
Ullah came to the country from Bangledesh in 2011, the Department of Homeland Security said. According to the complaint, Ullah became radicalized in 2014, when he began viewing pro-ISIS videos online and began researching how to construct a homemade bomb.
After the attack, police searched Ullah's Brooklyn home, finding materials such as metal pipe, screws, fragments of Christmas tree lights, and a passport with Ullah's name with handwritten notations, including: "O AMERICA, DIE IN YOUR RAGE."
Source: https://www.buzzfeed.com/usnews.xml