In conclusion: Humor is, apparently, extremely subjective.
Bradley A. Blakeman is a Republican media consultant, a former member of George W. Bush's senior White House staff, and a big Trump supporter on social media. On Monday, he said on Facebook that he gave his name for a Starbucks order as "Trump MAGA" — and that he let an employee call out "Trump MAGA decaf cap" several times.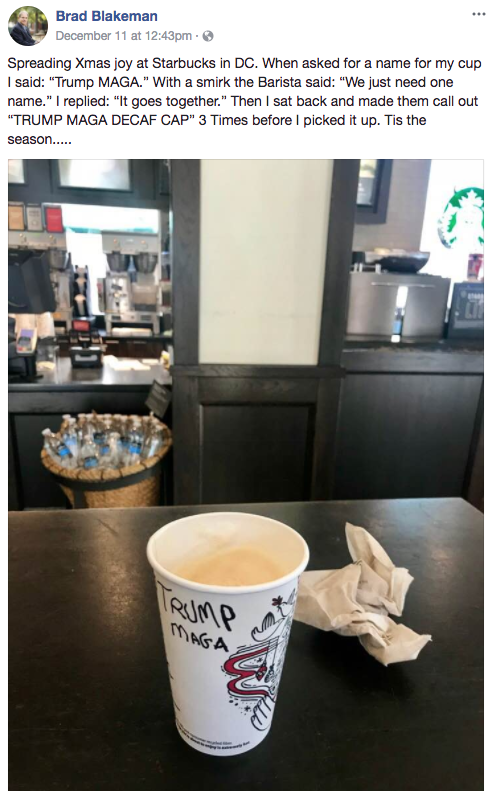 Blakeman noted in the post that the barista supposedly shot him "a smirk."
"When asked for a name for my cup I said: 'Trump MAGA.' With a smirk the Barista said: 'We just need one name.' I replied: 'It goes together,'" he wrote.
"Then I sat back and made them call out 'TRUMP MAGA DECAF CAP' 3 Times before I picked it up," he wrote.
Blakeman claimed it happened in a Starbucks in Washington, DC, but he refused to provide the exact location to BuzzFeed News. BuzzFeed News reached out to six chains near his work and home address — baristas and managers at five said they had no knowledge of the incident, and a sixth referred BuzzFeed News to Starbucks corporate public relations. (Keep reading for their statement.)
People in the comments of his post applauded him for the move and thought it was hilarious.

Someone even asked him how customers in this Starbucks reacted. "Oblivious," he claimed.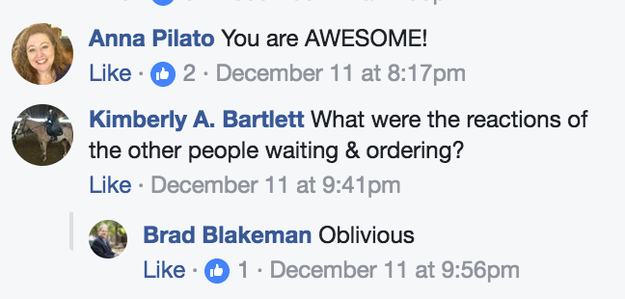 It's not the first time he's made similar claims on social media. In September, Blakeman shared a similar account of going to Starbucks, giving the name "Trump," and supposedly waiting to pick up the order until he "makes them call [Trump] out at least 3x."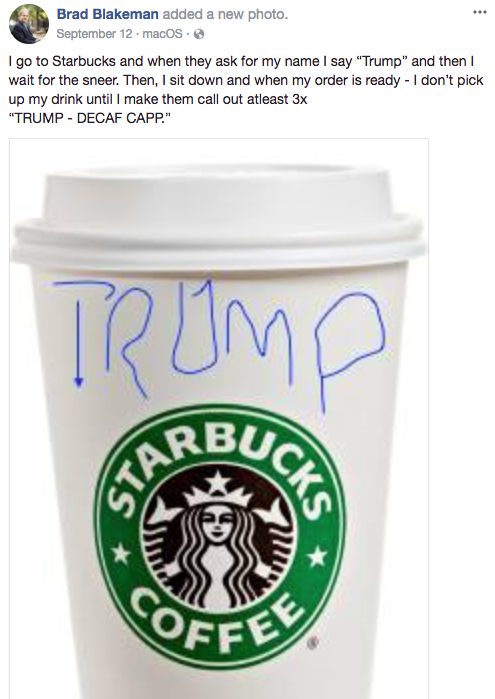 "I go to Starbucks and when they ask for my name I say 'Trump' and then I wait for the sneer. Then, I sit down and when my order is ready – I don't pick up my drink until I make them call out atleast 3x
"'TRUMP – DECAF CAPP.'"
Blakeman told BuzzFeed News that people's skepticism and confusion shows that "some people simply have no concept of social satire and that is exactly why I posted it."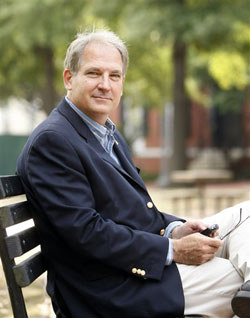 "It is fun to sit back and watch how people interpret it and spin it. I find it quite amusing," he said.
Brad Blakeman
"Over the years, writing customer names on cups and calling out their names has been a fun ritual in our stores. Rarely has it been abused or taken advantage of. We hope and trust that our customers will continue to honor that tradition," the representative said.
"We welcome all customers," the representative added.
Source: https://www.buzzfeed.com/usnews.xml