Dustin Hoffman poses for photographers at a film premiere on Oct. 6, 2017.
Vianney Le Caer / AP
Dustin Hoffman faces more sexual misconduct allegations, including exposing himself to a teen girl in a New York City hotel room, from five women whose stories were published by Variety and the Hollywood Reporter on Thursday.
The new allegations include the daughter of the former UN ambassador from Liberia who told both trade publications that Hoffman showered then came out and dropped his towel in front of her in his hotel room when she was 16. Two other women told the Variety they were sexually assaulted, one while working on the film Ishtar in the 1980s, the other in the back of a station wagon.
Representatives for the 80-year-old actor, who has already been publicly accused of sexual assault and misconduct by three other women, did not immediately return BuzzFeed News' request for comment on the new allegations. However, Hoffman's attorney told Variety the accusations were "defamatory falsehoods."
The ambassador's daughter, Cori Thomas, told Variety she was friend's with Hoffman's daughter in high school when instead of her mom picking her up at a pre-determined restaurant, the actor suggested they leave a note with the maitre d' saying they had instead gone to his hotel.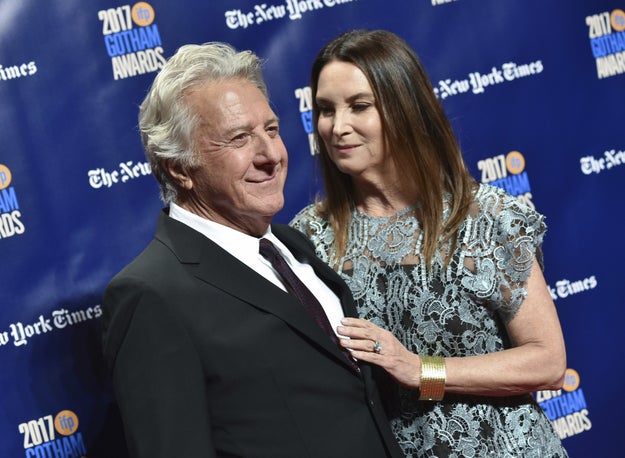 Dustin Hoffman and wife Lisa Hoffman on Nov. 27, 2017.
Evan Agostini / AP
Hoffman, who was separating from this wife at the time, was staying at the hotel while renovating a new apartment. Once at the hotel room, Thomas told Variety he sent his daughter home and she stayed behind waiting for her mom. That's when he allegedly exposed himself to her before eventually putting a robe on and asking her to rub his feet, which she said she did.
"I think I almost collapsed, actually," she told Variety. "It was the first time I had ever seen a naked man. I was mortified. I didn't know what to do."
They were interrupted when her mom called the phone to pick her up downstairs, Thomas said. She told Variety she waited years to tell anyone about the alleged encounter because she was mortified.
A second woman, Melissa Kester, told Variety she was helping Hoffman in a voice recording booth for the 1987 action comedy Ishtar when he sexually assaulted her.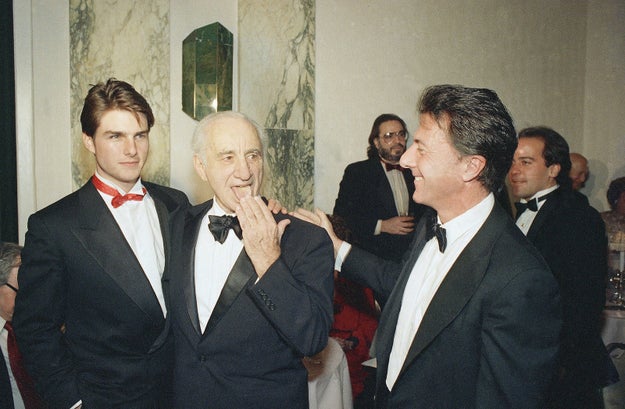 Actor Tom Cruise, left, looks on as director-producer Elia Kazan licks his fingertips before using them to slick down some stray hairs on actor Dustin Hoffman in New York on Jan. 20, 1987.
Mario Cabrera / AP
The recent college graduate alleged that while standing next to him in the booth — with them only visible to the techs outside from the waist up — the actor shoved his hands down her pants and put his fingers inside her for 15 to 20 seconds until the take was over and she moved away.
"I just stood there," Kester told Variety. "I just froze in the situation like, 'Oh my god, what is happening?' It's shocking when that happens to you."
A third woman who declined to be identified told Variety that she wound up next to Hoffman in the back of a packed station wagon the night of the wrap party for Ishtar when the actor ran his hand up her skirt and put his fingers insider her, "smiling at me."
"I was frozen," the woman told Variety. "I was outside of my body."
The Hollywood Reporter also published the account Thursday of a woman identified only as Pauline, who alleged that Hoffman invited her to his New York home in 1973 when she was just 15 and proceeded to masturbate in front of her when they were alone.
The allegations add to a series of other similar stories of misconduct from dating back to the 1980s. Anna Graham Hunter published a letter in the Hollywood Reporter in October alleging that Hoffman assaulted her when she was a production assistant on 1985's Death of a Salesman. Hunter said she was 17 at the time.
Kathryn Rossetter also followed up with a guest column for the Hollywood Reporter alleging Hoffman groped and assaulted her while working on the Broadway production of Death of a Salesman. And Wendy Riss Gatsiounis, a producer, alleged the actor propositioned her for sex during a work meeting.
LINK: A Third Woman Has Accused Dustin Hoffman Of Sexual Misconduct
Source: https://www.buzzfeed.com/usnews.xml