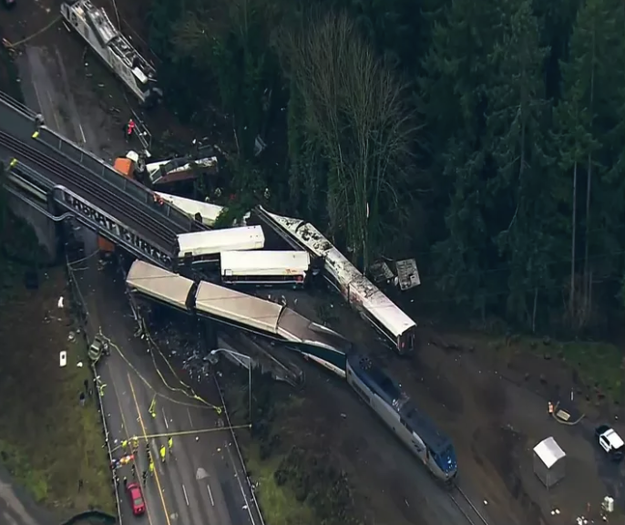 KOMO-TV via AP
Shortly after an Amtrak train derailed onto a highway on Monday in Washington, killing several people and injuring dozens more, pro-Trump personalities and media outlets implied a tenuous connection to anti-fascist group "antifa."
No immediate official cause for the train derailment was given Monday as federal investigators continued to comb the scene for evidence through the night.
But multiple tweets and posts suggesting a connection to members of antifa were centered around a since-removed article on the website It's Going Down!, which publishes news from anti-fascist and anarchist organizations. The anonymous post from April, which was re-published from the website Puget Sound Anarchists, outlines how activists poured concrete on tracks near Olympia, Washington, as a form of protest against fracking. The post also said activists warned authorities about the concrete ahead of time.
There was no indication Monday that the train derailment was in any way connected to anti-fracking sentiment in the area, but Mike Cernovich, a leader in the alt-right community, was one of the first people to suggest the connection between the It's Going Down! post and the crash. In a live Periscope video viewed by more than 78,000 people, Cernovich said it "could be something, could be nothing."
He also said that "the FBI might want to talk to these people," and in subsequent tweets continued to push the possible connection.
Screenshots
But a person involved in the It's Going Down! editorial collective, who did not provide his name to BuzzFeed News, said the post about pouring cement on the railway was deleted four or five months ago because it kept getting taken out of context.
To his knowledge, there's no connection between anti-fascist organization and Monday's crash. He also said he often sees commentators "latch onto a narrative at the beginning, before official information comes out."
Pro-Trump commentator Jack Posobiec, who also tweeted about antifa and the train crash, did not respond to BuzzFeed News' request for comment.
Cernovich, meanwhile, did not directly answer questions from BuzzFeed News regarding his implication that members of antifa were involved, or why he misled his readers about the date on which the It's Going Down! post was deleted.
"Funny how you and others in the fake news are paying more attention to my coverage of ANTIFA than you are to their admitted felonious acts," he wrote.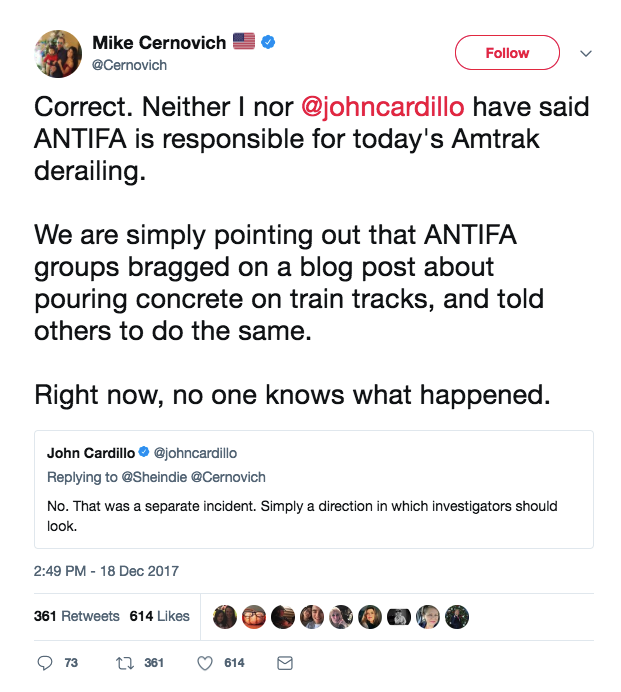 Screenshot
Follow-up questions about what kind of efforts Cernovich made to get at the cause of the crash, and whether he had reached any officials before publishing the blog post, also went unaddressed.
Instead, he told BuzzFeed News "I know what you're agenda is."
"Are you a PR agent for ANTIFA? Look I know what you're agenda is," he wrote. "You're going to LIE and claim I said ANTIFA was responsible for the attack, when I explicitly said no one knows what happened. You'll then spin a yarn about fake news."
Shortly after the online pro-Trump personalities tweeted about the blog post, other outlets known to spread misinformation picked up on the narrative.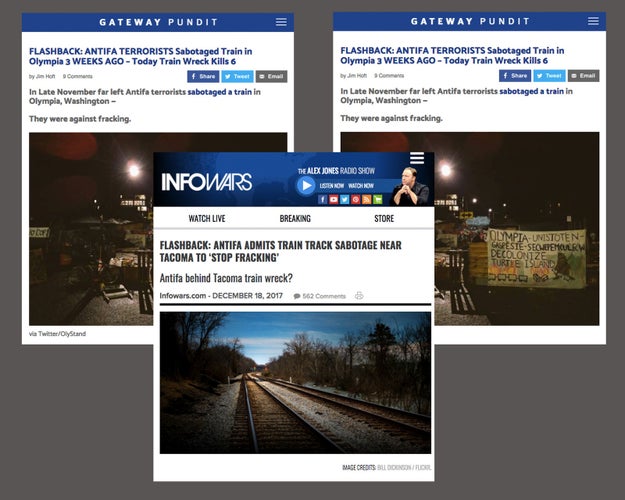 Screenshots
Although both Gateway Pundit reports added the fact that the investigation is ongoing at the end of their posts, the focus remained on the antifa narrative. InfoWars, however, just re-published the deleted post and didn't say the cause of derailment is currently unknown.
A known fake antifa account also pushed forward the misinformation.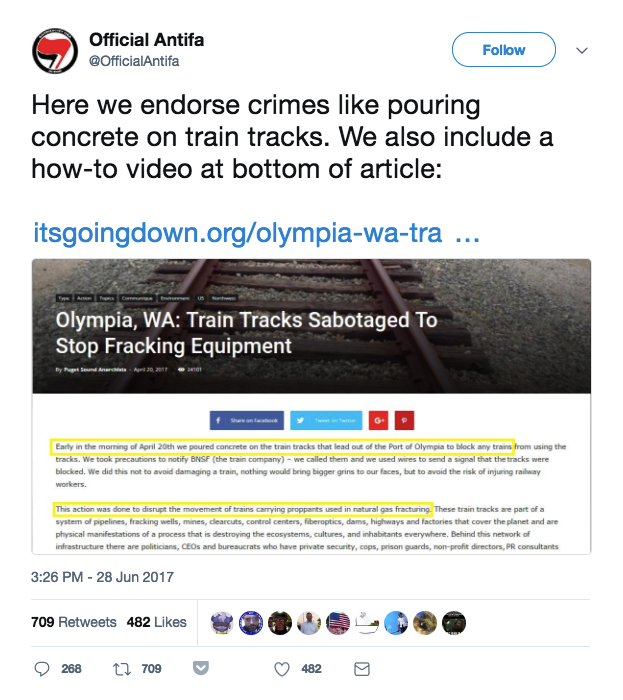 Screenshot
This isn't the first time antifa was implicated right as news broke. In the wake of the Sutherland Springs church shooting, websites and commentators falsely claimed the attacker was an antifa member. There have also been false claims of an "antifa apocalypse" and a picture of a member holding what seemed to be a planted sign supporting a pedophilia group.
Source: https://www.buzzfeed.com/usnews.xml