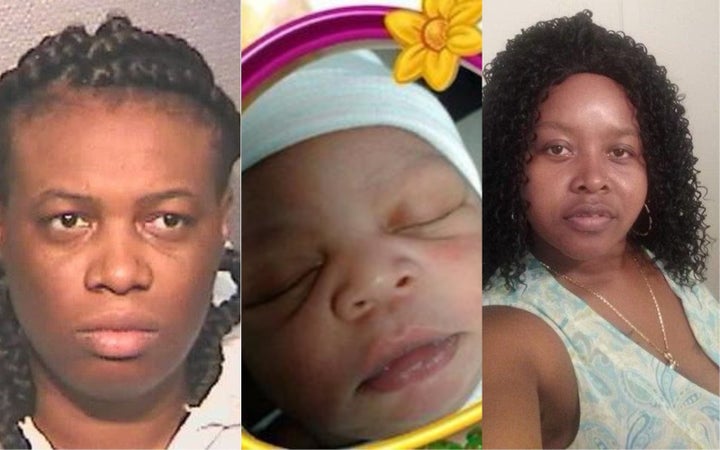 Erika Jisela Miranda-Alvarez, baby Shamali Flores, and her mother, Carolina Flores
Houston Police
Police in Houston, Texas, have arrested a woman who they say stabbed a mother to death and kidnapped her six-week-old baby to hide her own miscarriage.
The baby, Shamali Flores, had been missing since Dec. 19 after her mother, Carolina Flores, was found stabbed to death in the Magnolia Cove Apartments in Houston. The 33-year-old's three other children were not home at the time of the killing, police said.
Days later at around 1 a.m. Wednesday, police and the FBI officials swarmed the Woodscape apartment complex after they spotted a "suspicious male and female holding a newborn outside." Officials recognized the baby, who was unharmed, as missing six-week-old Shamali and arrested Erika Jisela Miranda-Alvarez and her boyfriend.
Houston Police Chief Art Acevedo said at a news conference Thursday morning that Miranda-Alvarez, 28, recently had a miscarriage. She was due in January, but continued to "fake her pregnancy with loved ones."
Miranda-Alvarez was friends with Carolina Flores' brother, Acevedo said, and "brutalized and murdered her" after arriving at her home. The women had known each other for several years, Acevedo added, noting that there was no sign of a break-in at the apartment.
Miranda-Alvarez then pretended to have her baby at the hospital, but said that the baby was sick. Then, on Dec. 19, she showed up at her boyfriend's place with Shamali, claiming her as "her own," Avecedo said.
Miranda-Alvarez's boyfriend has not been charged in this case, though he is still under investigation.
"It was a brutal murder," Avecedo said. "We are working to piece together every single piece of this complex puzzle to make sure we have…a conviction. We owe that to the family of this little baby and her brothers and sisters."
The police chief added that his department was trying to find the silver lining in what could have been a worse ending with a missing baby.
"It was a very joyous occasion for all of us when we saw that little angel sitting there, [she] didn't have a clue what was going on," Acevedo said. "It was a great moment. When you can find a silver lining out of a tragedy such as this, a young woman brutally murdered, you take what you can get."
Source: https://www.buzzfeed.com/usnews.xml