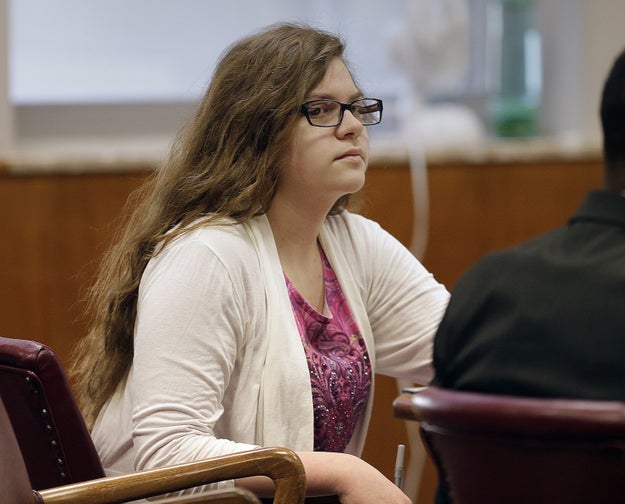 Anissa Weier court in Waukesha, Wisconsin, on Sept. 13, 2017.
Rick Wood / AP
A teenage girl who pleaded guilty to trying to kill her friend as a way of appeasing the fictional character "Slender Man" will be committed to a psychiatric hospital for 25 years.
A Wisconsin judge on Thursday ordered Anissa Weier, 16, to spend the next two and a half decades in the Winnebago Mental Health Institute. Weier had faced a charge of attempted first-degree intentional homicide, but in an August deal with prosecutors pleaded guilty to attempted second-degree homicide due to mental illness or defect.
Weier's case begin in 2014, when she and a friend, Morgan Geyser, stabbed another friend, Peyton Leutner, 19 times. Weier and Geyser later said they were trying to appease Slender Man, a kind of online boogeyman that is often photoshopped into old photos. The character is typically described as tall and faceless, has prompted fan fiction, and in stories is sometimes associated with disappearing children or people going crazy.
All of the girls were 12-years-old at the time of the stabbing. Geyser pleaded guilty to to attempted first-degree intentional homicide in October but has not been sentenced yet.
During Thursday's hearing, Weier told the judge that she was sorry for the stabbing.
"I want everybody involved to know that I deeply regret everything that happened that day," Weier added.
Weier had agree to be committed in a mental health facility as part of her deal with prosecutors. During Thursday's hearing, those prosecutors argued that she deserved the maximum possible time, which was 25 years, in the facility. Prosecutors also said that Leutner continues to suffer from the attack.
"It's not a long time in terms of the fact that Peyton is looking at a life time of scars and psychological scarring, physical scaring that she's going to have to deal with," Waukesha County Assistant District Attorney Kevin Osborne said in court. "So Saying that 25 years is a long time pales in comparison to that."
However, defense attorney Maura McMahon countered that a 25-year commitment would be twice as long as Weier had been alive at the time of the stabbing.
"To me that doesn't make sense," McMahon added.
McMahon recommended a 10-year commitment.
Before handing down Thursday's sentence, Waukesha County Circuit Judge Michael Bohren said "the dynamics of this case are simply tragic." He went on to discuss Leutner's many scars and the hours of surgery doctors performed to save her life.
Bohren went on to describe the crime as a "planned murder, by kids."
Watch Weier's sentencing hearing here:
This is a developing story. Check back soon for updates and follow @BuzzFeedNews on Twitter.
LINK: Teenage Girl Pleads Guilty To Lesser Charge In Slender Man Stabbing Case
LINK: A "Slender Man" Stabbing Suspect Pleaded Guilty By Reason Of Mental Disease
LINK: What Is "Creepypasta," Who Is Slender Man, And What Caused The Vicious Stabbing Of A 12-Year-Old Girl?
Source: https://www.buzzfeed.com/usnews.xml