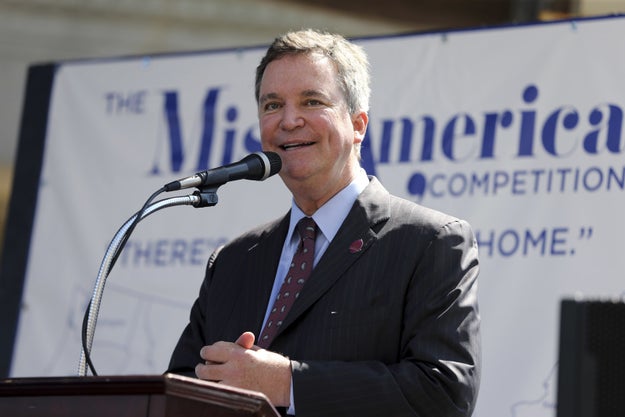 Sam Haskell, left, CEO of the Miss America Organization.
Mel Evans / AP
The chief executive of the Miss America Organization was suspended Friday over crude emails criticizing and deriding former contestants of the competition.
In the emails, reported by HuffPost on Thursday, Miss America CEO Sam Haskell criticized former winners, calling them derogatory terms and at times laughing or encouraging other executives at the organization who also insulted them.
When the lead writer of the pageant telecast in 2014 joked to Haskell that he would stop calling former contestants "forevers" and instead call them "cunts," Haskell reportedly replied, "Perfect…bahahaha."
The revelation of the emails prompted a strong rebuke, including from 49 Miss America pageant winners who called on Haskell and other leaders of the organization to quit.
"We stand firmly against harassment, bullying and shaming — especially of women — through the use of derogatory terms meant to belittle and demean," the pageant winners wrote, according to the New York Times.
On Friday, the Miss America Organization announced that its board of directors had decided to suspend Haskell.
"Mr. Haskell, in support of the organization, has agreed to abide by the board's decision," the organization added in a statement.
The Miss America Organization will also be conducting an investigation into "inappropriate communications" between officials, and how they were released to the press, according to the statement.
In a statement to BuzzFeed News, Haskell described the emails published by HuffPost as "conveniently edited" and that they came from former employees who stole them.
"Much of what was reported is dishonest, deceptive, and despicable," Haskell said. "The story is so unkind and untrue, and hurts me, my family, and the stewardship of this nonprofit."
He apologized for the statements, but said they were written during a time when he was "under stress from a full year of attacks by two Miss Americas."
"This was not the CEO of an organization laughing at inappropriate jokes and speaking about a former Miss America in email conversations," Haskell said in his statement. "This was a father whose family was being attacked, and a man whose character was being assassinated daily, which impaired my judgement when responding to the inappropriate emails sent to me about them. For that, I deeply apologize."
Many of the emails published by HuffPost involved Haskell responding positively or seemingly agreeing with emails written by other officials criticizing or insulting former contestants.
In one, he laughed when an employee suggested a former contestant should be dead.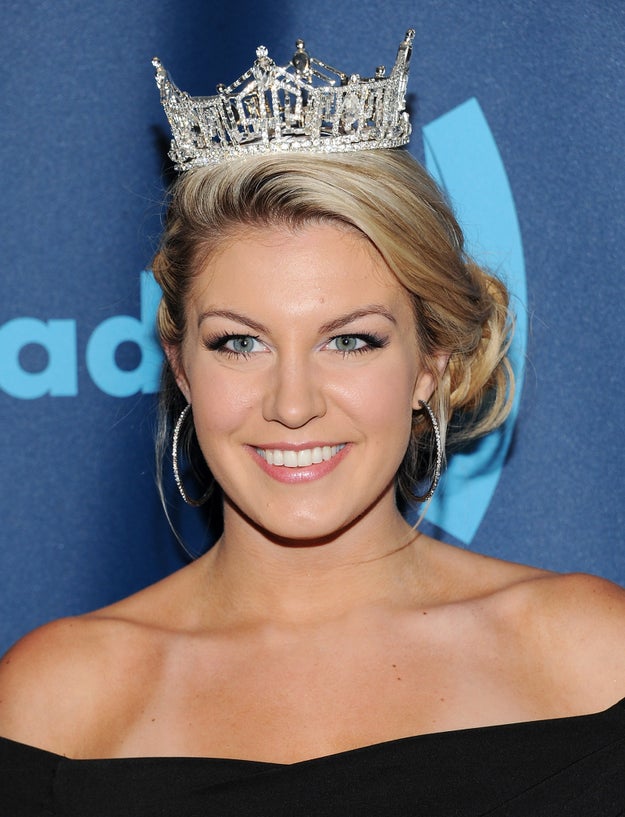 Former Miss America Mallory Hagan.
Evan Agostini / AP
Others, like a Jan. 25, 2015, email that had pictures of three former contestants, were written by him.
"OMG she is huge…and gross…why does he want that?????" Haskell reportedly wrote responding to the email and referring to Mallory Hagan, who was crowned Miss America in 2013.
Haskell was also referencing Brent Adams, a former employee of Haskell's who was dating Hagan at the time.
"I have the utmost respect for women of this program and contestants at every level," Haskell said in the statement. "It breaks my heart for anyone to think otherwise. My mistake is a mistake of words."
Haskell is not the only official from the Miss American Organization to face consequences since the emails were published.
According to HuffPost, Lewis Friedman, the lead writer of the telecast in 2014, was let go several months ago after the board of directors learned about the language in the email.
Source: https://www.buzzfeed.com/usnews.xml