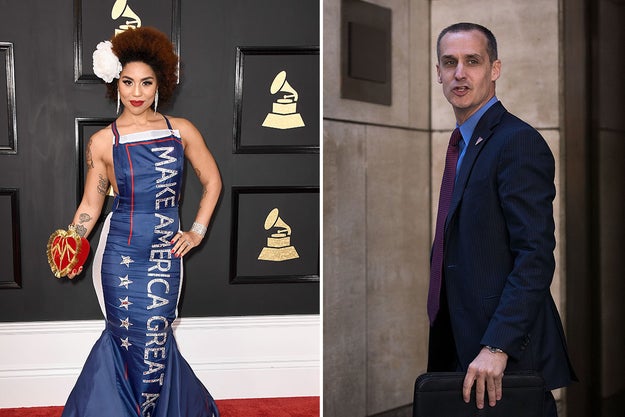 Joy Villa, left, and Cory Lewandowski, right
Getty Images
A singer who made headlines for wearing a Trump-themed dress to this year's Grammy Awards says the president's former campaign manager slapped her butt during a holiday party in November.
Joy Villa told Politico the incident happened during an invite-only gathering at Trump International Hotel in Washington, DC. A friend introduced her to Corey Lewandowski, who served as Trump's campaign manager until he was fired in June 2016, and the pair took a photo together.
"I'm wearing this silver suit and stretchy pants, and after the photo, he smacks my ass really hard," Villa told Politico. "It was completely demeaning and shocking."
Villa added that she half-jokingly threatened to report Lewandowski for sexual harassment, to which he allegedly replied "go ahead, I work in the private sector," then slapped her butt again.
Lewandowski did not answer calls from BuzzFeed News on Friday night, nor did he respond to Politico's request for comment.
Villa said she initially hesitated to come forward about the incident because she feared "that Corey could badmouth me," but ultimately decided to speak out after seeing numerous stories about sexual harassment in the media, politics, and other fields.
Lewandowski is no stranger to controversy. In March 2016, he was charged with battery for manhandling former Breitbart reporter Michelle Fields at an event in Jupiter, Florida. The charges were eventually dropped.
Multiple sources described to BuzzFeed News a pattern of aggressive behavior that allegedly included pushing a CNN reporter, physically confronting an aide from a rival campaign, shouting threats, making sexual comments about female journalists, and calling members of the press corps to make romantic advances.
When asked about the allegations last year, Lewandowski told BuzzFeed News "your story is inaccurate."
Villa has been a recording artist for years, but garnered extra attention this year when she wore a dress that displayed Trump's name and slogan "Make American Great Again." She has since explored a possible run for Congress, which earned her a congratulatory tweet from the president in October.
LINK: Trump Campaign Manager Charged With Battery After Allegedly Manhandling Reporter
LINK: Trump Campaign Manager Faces New Allegations Of Pushing, Sexually Suggestive Comments
Source: https://www.buzzfeed.com/usnews.xml