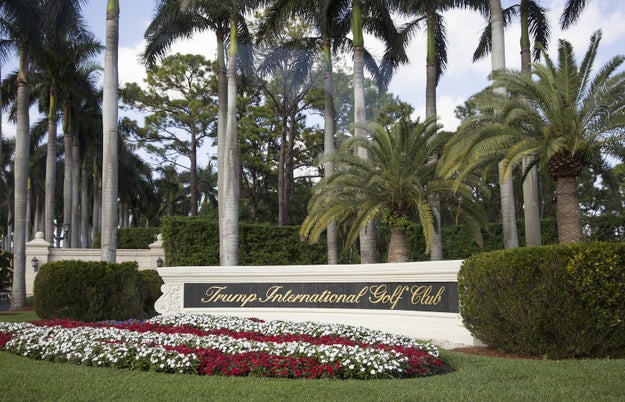 The entrance for President Donald Trump's Trump International Golf Club in West Palm Beach, Florida, on Dec. 23.
Carolyn Kaster / AP
President Trump was spotted on his course in West Palm Beach, Florida, on Wednesday for a second day despite his tweet saying he would be "back to work in order to Make America Great Again" the day after Christmas.
CNN first aired video of the president golfing at his course in West Palm Beach on Tuesday, the day after Christmas.
Trump is spending the holidays at his Mar-a-Lago resort in Palm Beach, which has served as a frequent escape for the president. His visit to the golf course again on Wednesday marked his 86th day playing golf as president and his 112th day at a Trump-owned property, according to NBC News. He's been in office 341 days.
On Wednesday, however, a truck blocked CNN's view of the president.
The timing and position of the truck's arrival prompted reporters to ask if law enforcement had intentionally parked the vehicle between the cameras and the president.
Therese Barbera, a spokesperson for the Palm Beach County Sheriff's Department, told BuzzFeed News their office had not sent the truck, and the Secret Service did not immediately respond to a request for comment.
Not long after his golf outing, the president made an impromptu visit to a West Palm Beach fire station where he thanked first responders for their work before touting Republican tax cuts and his own legislative agenda.
"We have the all-time record for stopping ridiculous regulations and we're very proud of that," he said.
Source: https://www.buzzfeed.com/usnews.xml