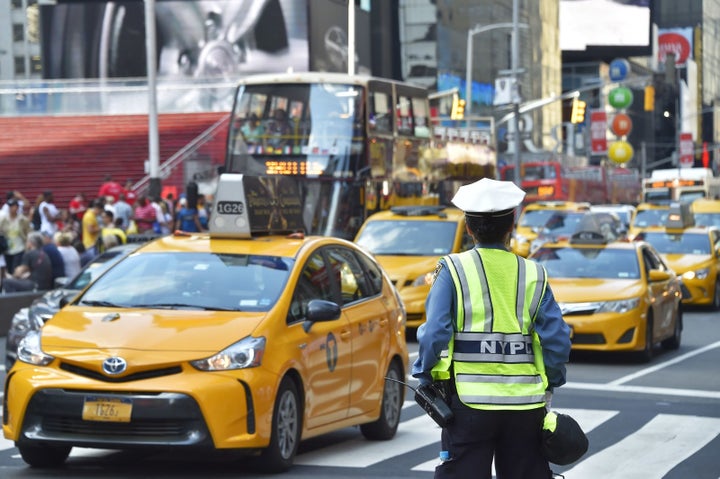 Loic Venance / AFP / Getty Images
A taxi driver in New York shot and killed himself at the gates of city hall, blaming politicians for his financial ruin in a Facebook post.
New York police officials identified the man as 61-year-old Douglas Schifter, who they say drove up to the East Gate of city hall Monday morning and shot himself in the head with a shotgun.
Schifter wrote on Facebook that he has worked between 100 and 120 hours per week for the past 14 years but still could not make ends meet.
"I hope with the public sacrifice I make now that some attention to the plight of the drivers and the people will be done to save them and it will have not have been in vain," he wrote.
Schifter also called driving taxis "the new slavery" and blamed New York City Mayor Bill de Blasio, former mayor Michael Bloomberg, and New York Gov. Andrew Cuomo for each having "their part in destroying a once thriving industry," accusing the men having a "bias in favor of Uber."
The mayor's and governor's offices did not immediately respond to requests for comment. However, the New York Post reported that de Blasio defended his record: "There's more work to do for sure on that front, but no, I mean, this is a tragic act that obviously reflects on one individual's distress."
Schifter also blamed changes to the taxi industry for deflating wages, arguing that there were too many drivers on the road, depressing demand and the ability to earn more money.
"Today is a sad day for our industry," Fernando Mateo, a spokesperson for the New York State Federation of Taxi Drivers, said in a statement. "It is evident that there is a serious problem when a man has to take his life to prove a point or send a message to the authorities and lawmakers."
Schifter also wrote that he did not have insurance and had been in poor health.
"I will not be a slave working for chump change. I would rather be dead," he wrote.
Schifter also said his vehicle had failed twice in the past year, which led to "no more income to pay bills and maxed out credit cards I cannot pay. I will lose my house and everything else."
Friends expressed condolences, solidarity, and grievances in the comments on the Facebook post. One person wrote, "I feel his pain as well. I'm a small business owner and have been in my industry since 1975."
Source: https://www.buzzfeed.com/usnews.xml