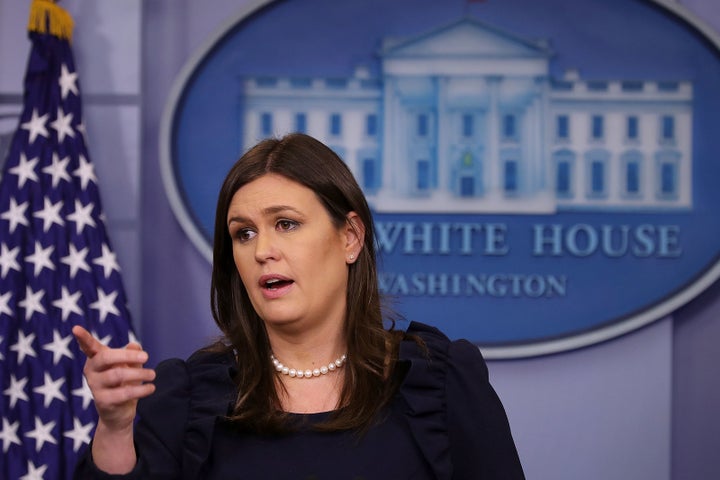 Chip Somodevilla / Getty Images
President Trump's top spokesperson failed to say Monday whether he believes the two women who have accused former staff secretary Rob Porter of physically and emotionally abusing them when they were married.
The question during the daily media briefing — and lack of a clear response from Press Secretary Sarah Huckabee Sanders — comes after Trump bemoaned over the weekend that lives are "being shattered and destroyed by a mere allegation," a seeming reference to the #MeToo movement.
"Does he believe Rob Porter's accusers, or are they lying?" Sanders was asked Monday.
"I just said the president along with the entire administration take domestic violence very seriously and believe all allegations need to be thoroughly investigated and above all, the president supports the victims of domestic violence and believes everyone should be treated fairly and with due process," Sanders said.
When she was told, "that doesn't answer the question," Sanders said, "I'm not going beyond that. That's where we are right now."
Earlier in the briefing, Sanders would not say why Donald Trump has not publicly said himself that he supports victims of domestic violence just days after two staffers resigned amid allegations of domestic abuse.
Sanders instead repeatedly read a statement saying the president and the administration take domestic violence seriously but also believe in due process.
"The president has been clear multiple times through myself and others within the administration that we condemn domestic violence in all forms," Sanders said.
When pressed as to why Trump himself has not said he supports victims of domestic abuse — Trump constantly speaks on his own behalf at media events and on Twitter — Sanders fired back saying she is "the spokesman for the president and the White House and I said it right now."
"He literally dictated that statement on me," she said. "So I'm not sure how that's not the president speaking on that topic."
Last week the president defended Rob Porter, his former staff secretary who resigned after accusations became public from his two ex-wives that he was physically and emotionally abusive, saying "it's a tough time for him," adding that Porter "says he's innocent and I think you have to remember that."
A second White House staffer also resigned last week amid an allegation of domestic violence from an ex-wife. Former speechwriter David Sorensen's ex-wife said he ran over her foot with a car and put out a cigarette on her hand. He denied the allegations.
The Porter scandal has unleashed mixed messages from the White House on who knew about the allegations, when, and how they were handled.
The New York Times and the Washington Post reported that chief of staff John Kelly instructed staff on Friday to say Porter was thrown out of the White House 40 minutes after he learned of the allegations.
Sanders contradicted that statement on Monday by saying Porter's resignation was accepted within 24 hours after the White House "learned of the extent of the situation."
Both of Porter's former wives told CNN that when they spoke to FBI investigators last year as part of the process for Porter obtaining a security clearance, they were truthful about what happened during their marriages.
The Washington Post first reported that Porter himself told White House Counsel Donald McGahn last year that allegations about him might surface. According to the New York Times, Porter at the time told McGahn the allegations were not true. Sanders called the reports incorrect but didn't say why.
Source: https://www.buzzfeed.com/usnews.xml