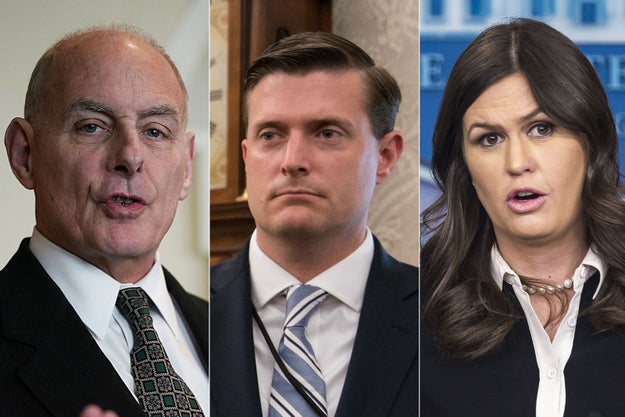 Getty Images
A week after former White House staff secretary Rob Porter resigned amid domestic abuse allegations, the White House is still struggling to provide clear answers on who knew what and when. The scandal has rare longevity for the Trump administration, which is used to bouncing from one controversy to the next.
Last week, the Daily Mail reported that two of Porter's ex-wives said he was physically and emotionally abusive against them. His first wife, Colbie Holderness, alleged to the Daily Mail that he had punched her during a trip to Florence, Italy, in the early 2000s and his second wife, Jennifer Willoughby, said she had obtained a temporary protective order against Porter after he allegedly violated their separation agreement.
Porter — whose job required him to handle sensitive and confidential information read by the president — denied the allegations and resigned before he was ever granted permanent security clearance from the FBI or White House. The White House has suggested it learned all about the allegations in the past week — but the FBI said it related issues in Porter's background investigation to White House officials at least three times, twice in 2017 and once in January.
What has emerged is a timeline where White House officials offer contradictory information, leading to a confusing narrative and dribs and drabs of information from the news media. Here's what the public learned about the scandal, in order:
Feb. 1
The Daily Mail reported that White House communication director Hope Hicks and staff secretary Rob Porter are romantically involved.
Feb. 6
7 pm: Porter's two ex-wives told the Daily Mail he physically and emotionally abused them.
Feb. 7
1:53 am: The Intercept posted photos of Porter's first wife's bruised face, which got picked up by the Daily Mail.
1:45 pm: Porter resigned and denied the allegations, calling them "simply false."
"These outrageous allegations are simply false. I took the photos given to the media nearly 15 years ago and the reality behind them is nowhere close to what is being described. I have been transparent and truthful about these vile claims, but I will not further engage publicly with a coordinated smear campaign."
"My commitment to public service speaks for itself. I have always put duty to country first and treated others with respect. I am deeply grateful for the opportunity to have served in the Trump Administration and will seek to ensure a smooth transition when I leave the White House."
1:45 pm: Chief of Staff John Kelly issued a statement praising Porter.
"Rob Porter is a man of true integrity and honor, and I can't say enough good things about him. He is a friend, a confidante and a trusted professional. I am proud to serve alongside him."
1:45 pm: Sanders issued a statement saying Kelly and President Trump have "full confidence in [Porter's] abilities and performance" and don't comment on security clearances.
"As has always been our policy, we do not comment on security clearances. Rob Porter has been effective in his role as staff secretary. The President and Chief of Staff have full confidence in his abilities and his performance," she said.
"I have worked directly with Rob Porter nearly every day for the last year and the person I know is someone of the highest integrity and exemplary character. Those of us who have the privilege of knowing him are better people because of it."
Around 2 pm: It's reported that Kelly was aware of the 2010 protective order Porter's ex-wife took out against him.
Politico reported, citing a senior administration official, that chief of staff Kelly was aware of the 2010 protective order, which was delaying security clearance.
3:45 pm: Sanders said Porter will leave the White House soon but "it won't be immediate."
She did not comment on whether Porter was granted a security clearance.
4:07 pm: CNN reported that both of Porter's ex-wives said they were interviewed by the FBI as they looked into Porter's White House security clearance. (At the 3:10 mark.)
[youtube https://www.youtube.com/watch?v=6nZ8Awf1OBc&w=560&h=349]
7 pm: CNN and CBS News reported the FBI told Kelly and other senior White House officials about domestic abuse allegations against Porter in November.
7 pm: CNN reported Hope Hicks helped draft Kelly's statement supporting Porter.
9:30 pm: Kelly issued another statement saying he was "shocked" by the allegations.
"I was shocked by the new allegations released today against Rob Porter," the statement read. "There is no place for domestic violence in our society. I stand by my previous comments of the Rob Porter that I have come to know since becoming Chief of Staff, and believe every individual deserves the right to defend their reputation."
Feb. 8
9:30 am: Trump did not respond to shouted questions about Porter.
3:40 pm: Deputy press secretary Raj Shah said Kelly became aware of the allegations against Porter on Wednesday, Feb. 7 and President Trump became aware on Tuesday, Feb. 6
"He was surprised. He like many of us, did not see that in Rob Porter," Shah answered when asked about President Trump's reaction to the allegations. "He was surprised by it, he was disheartened by it, and he was saddened by it."
He also said during the daily press briefing that Porter was operating on an "interim security clearance" and the background investigation was ongoing.
"He was operating on an interim security clearance. His clearance was never denied, and he resigned," Shah said.
Shah added that the administration "could have done better" in handling how it responded to allegations of domestic abuse against Porter. "I think it's fair to say that we all could have done better over the last few days in dealing with this situation."
8:15 pm: Jennie Willoughby, Porter's ex-wife, expressed shock on CNN that Porter still has the "support of so many people in the White House."
10:30 pm: It was reported that Kelly knew Porter would be denied a security clearance.
According to Politico, Kelly knew "several weeks ago" that Porter would be denied a permanent security clearance.
"He knew it was a problem having people who would never be granted permanent clearances and he was preparing to deal with it. And this blew up in his face," a senior administration official said.
11 pm: The Washington Post reported that Porter expressed concern to White House Counsel Donald McGahn in January 2017 that his former wives would make damaging allegations to the FBI.
McGahn said that a year ago, Porter did not tell him his ex-wives accused him of domestic violence. McGhan said he only knew about "damaging accusations" but did not ask what they were because Porter said they were untrue.
11 pm: One of Porter's ex-girlfriends contacted McGahn in November, the Washington Post reported.
The ex-girlfriend told McGhan that he should investigate the abuse alleged by the ex-wives. McGahn did not act on the ex-girlfriend's call, according to the Post.
McGahn was informed in September 2017 that the allegations of abuse were delaying Porter's security clearance and passed this information to Kelly in the fall, the Post reports.
Feb. 9
12:55 pm: President Trump defended Porter
Trump made his first public comments on the incident saying "it's a tough time for" Porter.
"He also, as you probably know, says he's innocent and I think you have to remember that," Trump said. "He said very strongly yesterday that he's innocent so you have to talk to him about that, but we absolutely wish him well, he did a very good job when he was at the White House."
1 pm: Kelly instructed staff on Feb. 9 to say Porter was thrown out of the White House 40 minutes after he learned of the allegations, according to the Washington Post.
Kelly's statement contradicted his previous, supportive statement. It also contradicted the line from the White House that Porter resigned from him position.
3 pm: Vice President Mike Pence said he was "appalled" by the allegations.
"The time that he resigned was the first time I became aware of the allegations of domestic abuse," he told NBC News in an interview from Pyeongchang.
"There is no tolerance in the White House, no place in America for domestic abuse," Pence said. "That being said, I think the White House has acknowledged that they could have handled it better."
5:13 pm: Kelly reportedly said he's willing to resign over Porter scandal, the New York Times reported.
Feb. 10
10:30 am: Trump tweeted that lives are "being shattered and destroyed by a mere allegation."
"Peoples lives are being shattered and destroyed by a mere allegation," he tweeted. "Some are true and some are false. Some are old and some are new. There is no recovery for someone falsely accused — life and career are gone. Is there no such thing any longer as Due Process?"
Feb. 12
3:50 pm: Sanders, at the daily press briefing, contradicted reports that Kelly ordered Porter fired within 40 minutes of learning about the allegations.
Instead, Sanders said Porter's resignation was accepted within 24 hours after the White House "learned of the extent of the situation."
Sanders also said Porter's background investigation is ongoing. "The White House had not received any specific papers regarding the completion of that background check," she said.
Sanders also failed to say whether Trump believes Porter's ex-wives.
"I just said the president along with the entire administration take domestic violence very seriously and believe all allegations need to be thoroughly investigated and above all, the president supports the victims of domestic violence and believes everyone should be treated fairly and with due process," Sanders said.
5:40 pm: Porter told senior White House officials "hours after allegations of domestic abuse came to light" that his first ex-wife bruised her face after the couple struggled over a Venetian glass vase, ABC News reported.
Two sources told ABC News that Porter said his ex-wife "was ready to throw glass onto the floor to smash and they both lunged for the glass and there was a struggle."
His former wife bruised her eye when she fell during the struggle, Porter said according to ABC News.
Feb. 13:
5 am: Sanders set up an off-the-record meeting between Porter and four reporters for him to defend himself following the Daily Mail report.
According to Politico, the White House Press Secretary arranged an off-the-record meeting with reporters from the New York Times, the Washington Post, the Wall Street Journal, and Axios.
It is unclear if Kelly knew the meeting was taking place.
Later in the day Politico reported that during the meeting, Porter blamed his ex-wife's black eye on a fall and admitted he called his second wife "a fucking bitch."
Morning: FBI Director Chris Wray contradicted White House statements, said the agency passed a partial report to the White House about problems in Porter's background check in March 2017.
Testifying before the Senate Intelligence Committee, Wray did not say what was in the agency's inquiry.
The complete background investigation — including claims of domestic abuse — was delivered to the White House at the end of July 2017. Responding to a "follow-up inquiry" the FBI confirmed it gave additional information on Porter's background to the White House in November 2017, Wray said.
Wray said the Porter's background check was "administratively closed" in January 2018 — contradicting claims coming out of the White House that the investigation was "ongoing" when the abuse allegations were reported in the Daily Mail.
Wray added that while the investigation was closed, the FBI received "some additional information" which it based on to the White House.
"I'm quite confident that in this particular instance, the FBI followed existing protocols," Wray said.
12:32 pm: CNN reported Porter was up for a promotion before resigning
Porter was being considered for a promotion — including possibly taking over as the deputy chief of staff — before resigning last week, CNN reported.
A source told CNN that Kelly "definitely wanted to expand his role."
1:31 pm: It was reported that Kelly said White House handled the Porter situation correctly.
"It was all done right," Kelly said the day before, on Monday, Feb. 12, of the White House's handling, according to the Wall Street Journal.
3 pm: Sanders said Wray's testimony about the FBI investigation does not contradict the administration's account — because the White House Personnel Security Office investigation had not concluded.
She said the personnel security office was still reviewing information provided by the FBI when Porter resigned and had not made a final recommendation to the administration on whether he would receive security clearance.
She said the personnel security office had not passed along any information from the FBI to the West Wing.
She went on to say that she is unaware of Porter being up for a promotion before resigning.
This is a developing story. Check back for updates.
Source: https://www.buzzfeed.com/usnews.xml