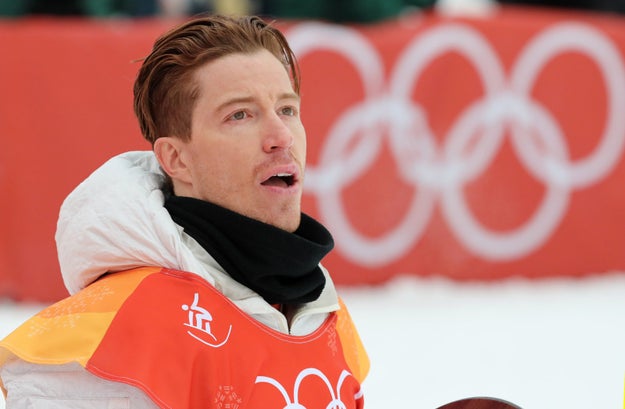 Mike Blake / Reuters
Shortly after winning an Olympic gold medal on Wednesday, snowboarder Shaun White called sexual harassment allegations against him "gossip" and said they wouldn't harm his reputation.
The allegations stem from 2016, when musician Lena Zawaideh filed a lawsuit against him alleging prolonged sexual harassment while she was a drummer in his band, the Bad Things. She later requested the lawsuit be dismissed and there were reports the two had settled out of court.
White, who has been competing in the Winter Olympics in South Korea, was asked about Zawaideh's allegations during a press conference after his first-place half pipe performance Wednesday. He responded by calling her claims "gossip" and declined to comment further.
"I'm here to talk about the Olympics, not gossip and stuff," he said in response to a question from an ABC News reporter, who then followed up by asking whether he felt the allegations would tarnish his reputation. "I don't think so," White said.
"I am who I am, and I am proud of who I am," he went on to say. "My friends, you know, love me and vouch for me and I think that stands on it's own."
Other reporters attempted to also ask him about the allegations, but he quickly rushed off stage. The press conference moderator shut down further questions, according to the Associated Press.
Later, White spoke to the Today show and apologized for his "poor choice of words to describe such a sensitive subject." He continued: "I was so over-whelmed with just wanting to talk about how amazing today was and share my experience."
"I've grown as a person over the years," he said, "it's amazing how life works and twists and turns and lessons learned. Every experience in my life I feel like it's taught me a lesson. I definitely feel like I am a much more changed person than who I was when I was younger. I am proud of who I am today."
The controversy stems from the lawsuit filed by Zawaideh in 2016. The lawsuit alleges sexual harassment, wrongful termination, breach of contract against White.
Zawaideh's later requested the lawsuit be dismissed. USA today reported that the pair reached an out of court settlement agreement in May 2017.
The suit claims White sent explicit and graphic images of "engorged and erect penises" to Zawaideh. She alleges he forced her to watch "sexually disturbing" porn sexualizing human fecal matter.
Zawaideh, who was fired by White from his band Bad Things in 2014, claims the snowboarder stuck his hands down his trouser and then thrust his hands in her face.
He also, according to the lawsuit, made "demands" that she change her hair, outfits, and make-up for band shows.
White has consistently denied the allegations. In 2016 he issued a statement through his lawyer, calling Zawaideh's accusations "totally bogus."
"There is absolutely no coincidence to the timing of her claims, and we will defend them vigorously in court," he said through a representative.
BuzzFeed News has contacted representatives for White and Zawaideh. Neither returned comment by the time of publication.
Source: https://www.buzzfeed.com/usnews.xml