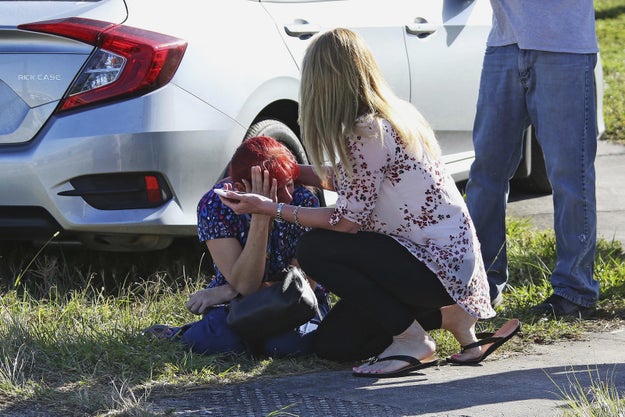 A woman consoles another as parents wait for news regarding a shooting at Marjory Stoneman Douglas High School on Feb. 14, 2018.
Joel Auerbach / AP
The man suspected of opening fire at a high school in Parkland, Florida, on Wednesday, killing multiple people, was described by a former classmate as someone who complained about bullying and "talked about guns a lot."
The Miami Herald, citing law enforcement sources, reported that the suspect's full name was Nicolas de Jesus Cruz. An unnamed US official also confirmed his identity to the Associated Press.
According to several people who knew him, he at one time attended Marjory Stoneman Douglas High School, where the shooting took place.
Broward County Sheriff Scott Israel told reporters the shooting occurred around 2:30 p.m., with their being at least 14 people victims and "multiple" fatalities. The suspected shooter was apprehended without incident away from the campus and described by officials as "approximately 18 years old."
Giovonni Watford, who was in the same class as Cruz, told BuzzFeed News he was in the Junior ROTC program while at Marjory Stoneman Douglas High.
"He was off," Watford said. "He was super stressed out all the time and talked about guns a lot."
Cruz also complained often about bullying on campus, Watford added.
A former classmate identified Cruz as the freckled-face redhead in the far right of this photo from the school's JROTC Instagram account.
But Jim Gard, a math teacher at the school, told the Herald that Cruz himself had been identified as a potential threat to his peers.
"We were told last year that he wasn't allowed on campus with a backpack on him," Gard said. "There were problems with him last year threatening students, and I guess he was asked to leave campus."
Watford's older brother, Mike, who also attended Marjory Stoneman Douglas High before graduating in 2016, told BuzzFeed News that Cruz often declared "how tired he was of everyone picking on him and the staff doing nothing about it."
"Something definitely pushed him," Mike Watford said.
LINK: Sheriff Says There Are "At Least 14 Victims" In Florida School Shooting
Source: https://www.buzzfeed.com/usnews.xml