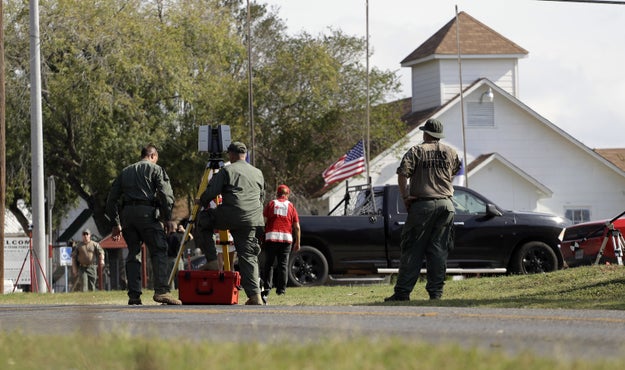 Flags fly at half-staff as officials investigate the scene of a shooting at the First Baptist Church of Sutherland Springs on Nov. 7, 2017.
Eric Gay / AP
Texas investigators did not follow up on a sexual assault report that was made against Devin P. Kelley, the gunman who a few years later would open fire into a small church and kill 26 people, according to records obtained by BuzzFeed News.
Kelley forced himself atop of the woman, held her down and choked her when she refused to perform oral sex, then slapped her when she tried bite him in an effort to get him to stop, according to the records.
Authorities said they tried to contact Kelley four months after the report was made, but "the investigation stalled" after the detective was unable to get a hold of him.
Four years later on Nov. 5, 2017, and after a series of violent red flags, Kelley would open fire at First Baptist Church in Sutherland Springs, which was frequented by his mother-in-law. He was found dead with a self-inflicted gunshot wound.
The records were released Friday in response to public information requests filed by BuzzFeed News and other media outlets after the shooting.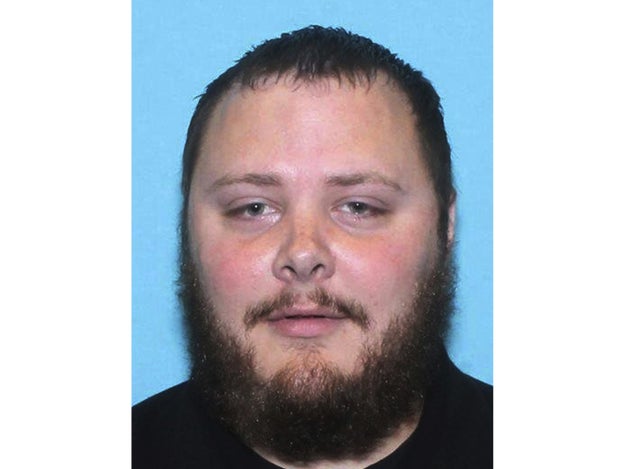 Devin Patrick Kelley.
/ AP
The 2013 sexual assault case marks yet another violent incident left behind by Kelley.
Kelley was court-martialed in 2012 for assaulting his spouse and their child, an incident in which he reportedly kicked his wife and fractured his child's skull.
He was picked up by police at a bus terminal months after his discharge after apparently escaping from a mental health facility.
Then, in February 2014, a Comal County Sheriff's deputy responded to a domestic violence call involving Kelley and his girlfriend at the time, Danielle Shields, who had sent texts to someone saying he "is abusing her."
The department closed the case, labeling it a "misunderstanding and teenage drama."
Similarly, the department filed the 2013 sexual assault case away as "inactive" without making contact with Kelley, according to the report.
In a statement, Comal County Sheriff Mark W. Reynolds said the department made mistakes in not linking Kelley to other multiple violent incidents.
"This was an error on the part of the sheriff's office in 2014, not linking the suspect back to the 2013 sexual assault case," Sheriff Mark W. Reynolds told BuzzFeed News in a statement. "The report should have been reviewed and arrest warrants probably should have been issued and the suspect questioned."
Reynolds said the case stalled when the detective in the case, Chris Garza, "was unsuccessful" in contacting Kelley.
The report shows police not only spoke to the victim of the sexual assault, but to Kelley's first wife Tessa Brennaman, who spoke with the victim the day after the assault.
Brennaman told police not just what the victim told her about the assault, but the violence she experienced while married with Kelley for more than a year.
"We had only been married a month the first time he choked me," she wrote in a statement to police. "For a whole year he slapped me, choked me, kicked me, water-boarded me, and held a gun to my head."
Brennaman spoke to police as a witness after having spoken with the victim, whose name was redacted from the report, the day after the sexual assault.
Reynolds said the sheriff's office has since implemented a case-tracking database "to ensure no cases go without attention." The department is also looking at ways suspects can be "flagged" in an internal computer system when new cases are filed.
Source: https://www.buzzfeed.com/usnews.xml