The "Fix NICS" act was introduced after the 2017 mass shooting at a church in Sutherland Springs, Texas.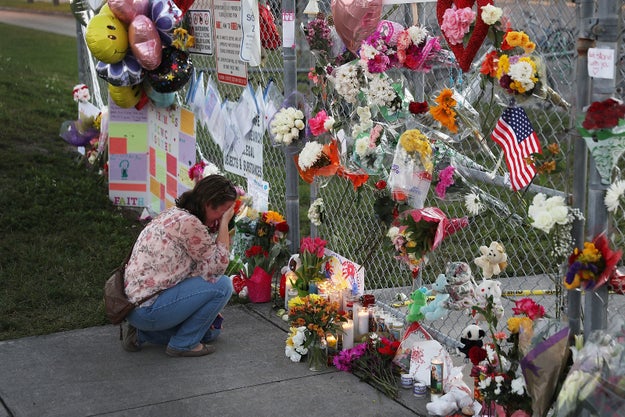 Joe Raedle / Getty Images
The White House on Monday said that President Trump supports bipartisan efforts that would improve the federal background check system to ensure those convicted of a crime would not be able to buy a gun, in the wake of the school massacre in Parkland, Florida, last week.
Sarah Huckabee Sanders, White House press secretary, said in a statement that the president spoke with Republican Sen. John Cornyn and Democratic Sen. Chris Murphy about the "Fix NCIS Act" introduced they introduced last year.
"The president spoke to Senator Cornyn on Friday about the bi-partisan bill he and Sen. Murphy introduced to improve federal compliance with criminal background check legislation," Sanders said. "While discussions are ongoing and revisions are being considered, the president is supportive of efforts to improve the federal background check system."
The "Fix NCIS Act" was introduced after the church massacre last year in Cornyn's home state of Texas. The gunman in that shooting killed 26 people in a church in Sutherland Springs before being shot himself by a bystander.
The act would give states incentives to upload information about people who are prohibited to buy a gun, such as convicted criminals and people who have been dishonorably discharged from the military, into the National Instant Criminal Background Check System or NICS.
In a fact sheet, House Judiciary Chairman Sen. Bob Goodlatte said if NICS is improved, it could stop shooters such as the gunman in the Texas attack.
"[The bill] would have ensured that the Virginia Tech, Charleston church, and Sutherland Springs shooters would have been flagged in the NICS system and prevented their firearm purchases," he said.
Source: https://www.buzzfeed.com/usnews.xml