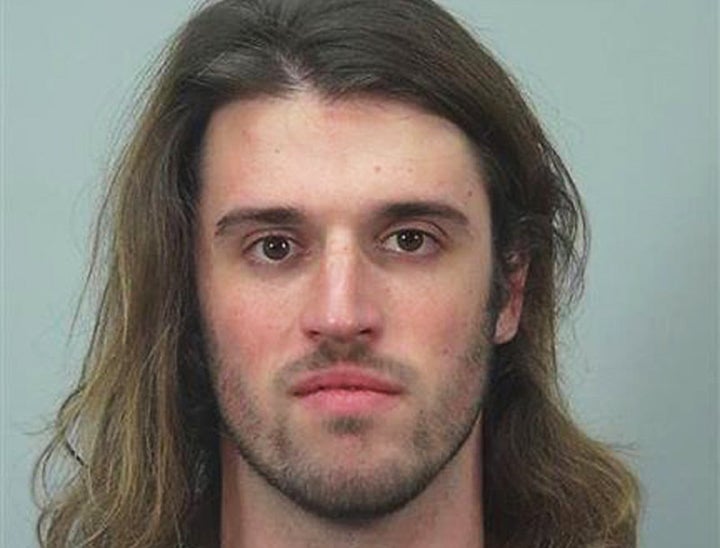 Handout / Reuters
Alec Cook, the former University of Wisconsin-Madison student facing charges including, among others, sexual assault, harassment, and stalking at least 10 women, will plead guilty and avoid trial that was scheduled to start early next week.
Cook, 21, was first charged in October 2016 with 15 criminal counts, including 11 sexual assault charges involving five women. His arrest prompted more women to come forward and accuse him of similar crimes, police said at the time. Five more women later accused him of sexual assault or harassment which led to him being charged with an additional 6 counts.
The 21-year-old former University of Wisconsin-Madison student will plead guilty to five of the 21 charges, his lawyer Jessa Nicholson Goetz told the Wisconsin State Journal, adding that the remaining charges would be dismissed but the judge can consider them during sentencing.
Online court records indicate there is a plea hearing scheduled for Wednesday afternoon. Cook's attorneys could not be reached for comment and the Dane County district attorney's office did not immediately respond to BuzzFeed News.
Cook, who was expelled from the University of Wisconsin-Madison after he was charged, was arrested in 2016 for allegedly raping a female student at his Madison apartment. His arrest prompted dozens more women to come forward with similar allegations.
A Dane County judge ruled last year to break up the charges into seven trials. The first was scheduled to begin next week.
At the time of his arrest, Madison police collected a black leather notebook "with female names believed to be other victims, from Cook's apartment while executing a search warrant, according to records reviewed by BuzzFeed News.
"The pages individually documented a different female in a very systematic way," a police detective wrote. "Each entry showed how Cook met the female, and what he liked about them. Further the entries went on to document what he wanted to do with the females. Disturbingly enough there were statements of 'kill' and statements of 'sexual' desires."
A judge ruled earlier this year that the notebook could not be used as evidence in the trials because police officers extended their search of Cook's apartment beyond the warrant they were granted, according to the Wisconsin State Journal.
A police officer photographed the notebooks and used the pictures to get a second warrant to seize them. Cook's attorneys successfully argued that the initial photographs were outside the scope granted in the first search warrant.
Source: https://www.buzzfeed.com/usnews.xml