The NRA says the message is a threat to the lives of its members.
A billboard in Louisville, Kentucky, was vandalized with the message "Kill the NRA" on Monday, less than a week after 17 people were shot and killed in the high school shooting in Parkland, Florida.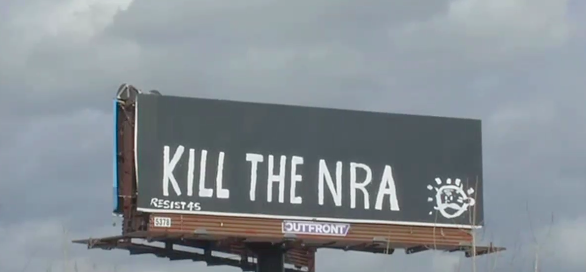 The owner of the billboard, Outfront Media, confirmed to BuzzFeed News that it was vandalized and that the message was taken down immediately.
A representative told BuzzFeed News that the company is filing a police report about the incident.
The sign and its slogan, #KillTheNRA, is now trending on social media.
While speculations of origins of the sign remain unconfirmed, it was tagged with "Resist 45," a group that's tagged other anti-Trump signs in the Louisville area.

The Resist 45 Facebook group appears to have been recently taken down.
National Rifle Association posted the photo on its Facebook page with the caption to "all American gun owners" that "this is a wakeup call. They're coming after us."
Source: https://www.buzzfeed.com/usnews.xml