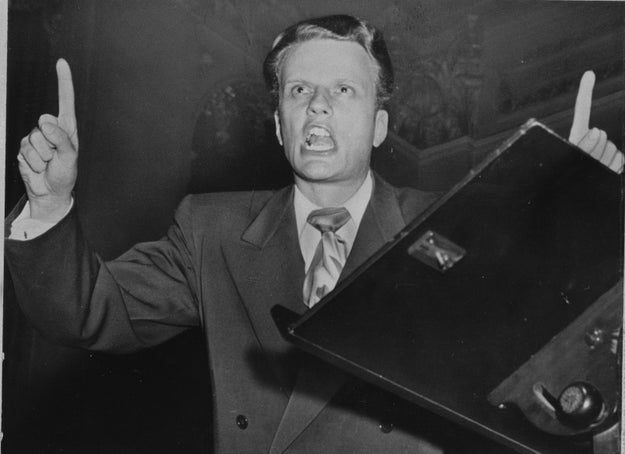 Graham on March 29,1950 in Portland, Maine
/ AP
The Christian evangelist preacher, Billy Graham, who became internationally known for his large-scale preaching tours, has died.
Graham, who rose to fame as a TV preacher and as a religious advisor to US presidents, was 99.
The Billy Graham Evangelical Association confirmed the news on Twitter and launched a memorial website.
Graham had long suffered from cancer, pneumonia and other illnesses, and passed away at his North Carolina home.
The preacher hosted religious events attended by thousands, known as the "Billy Graham Crusades", around the world.
Graham preached live to nearly 215 million people in over 185 countries and territories, according to his biography on the Billy Graham Evangelical Association website. Hundreds of millions of others watched his videos and listened to his radio broadcasts.
President Trump tweeted about the death of Graham, noting: "There was nobody like him! He will be missed by Christians and all religions. A very special man."
Graham's wife Ruth Bell passed away in 2007, after 64 years of marriage.
This is a developing story. Check back for updates and follow BuzzFeed News on Twitter.
Source: https://www.buzzfeed.com/usnews.xml