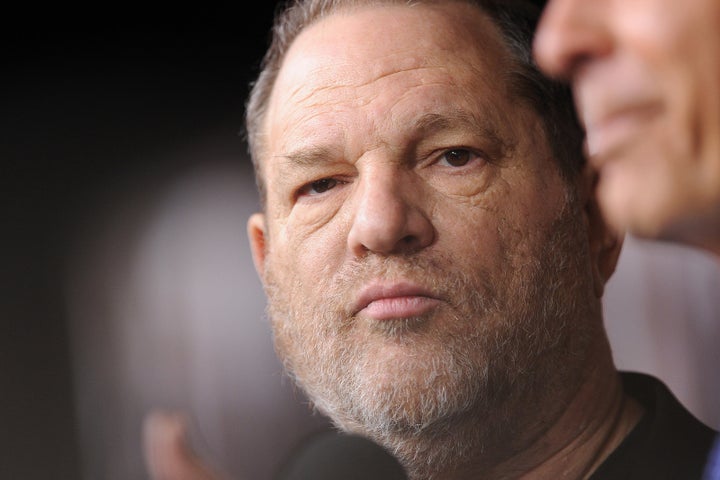 Robyn Beck / AFP / Getty Images
Harvey Weinstein is asking a federal judge to dismiss a sexual assault lawsuit filed against him by six women because, he argues, even if what they allege did happen, none of it would be considered a sex act under the law.
The women — Louisette Geiss, Katherine Kendall, Zoe Brock, Sarah Ann Thomas (aka Sarah Ann Masse), Melissa Sagemiller, and Nannette Klatt — filed the class action lawsuit Dec. 6 against Weinstein alleging the now-disgraced Hollywood mogul sexually assaulted them. The allegations range from forcible kissing, insisting on massages while naked, demands to see breasts, and asking to watch him masturbate.
The lawsuit, which names the company he helped found, the Weinstein Company, also alleges the producer's alleged sexual misconduct was covered up, which amounts to civil racketeering. The women allege that in thwarting Weinstein's sexual requests, they faced a "credible and objective threat" of being blacklisted by Weinstein and major film producers.
But in his latest court filing in New York, Weinstein's attorneys argue that a "sex act" only occurs when there is "contact between the penis and the vulva or the penis and the anus," or the penetration, however slight, of the anal or genital opening of another by a hand, finger, or foreign object "with intent to abuse, humiliate, harass, degrade, or arouse or gratify the sexual desire of any person."
"Neither a kiss (Sagemiller), a hug (Thomas), being asked to give a massage (Brock, Klatt), being 'chased' around an apartment (Kendall), nor being asked to watch someone masturbate (Geiss) — even if those alleged events happened — constitutes a 'sex act' within the sex trafficking statute," and so the lawsuit should be dismissed, Weinstein's attorneys argued in their court filing.
The Weinstein Company is also trying to extricate itself from the class action lawsuit, as are those who were members of the board of directors at the time of the alleged misconduct.
Weinstein is already facing multiple civil lawsuits regarding allegations of sexual assault, including from Dominique Huett, who is suing the Weinstein Company in California for $5 million in damages for allegedly being aware of the producer's predatory behavior and failing to act.
The lawsuits were filed after dozens of women came forward with allegations of sexual assault and harassment in the wake of stories published by the New York Times and the New Yorker.
Weinstein also faces potential criminal charges in California, New York, and the UK.
LINK: Here Are The Women Who Harvey Weinstein Has Allegedly Sexually Harassed Or Assaulted
LINK: Harvey Weinstein Accused Of Sex Trafficking In New Lawsuit
LINK: Uma Thurman Opened Up About Harvey Weinstein, Saying He "Attacked" Her In His Hotel Room
Source: https://www.buzzfeed.com/usnews.xml