Columbine High School massacre — April 20, 1999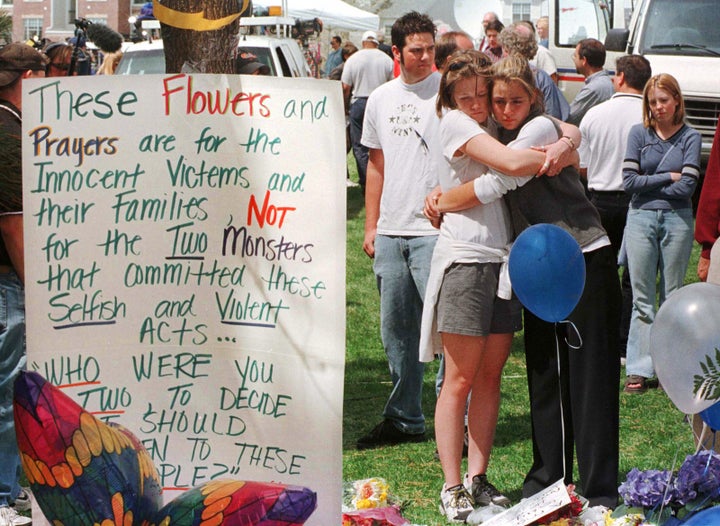 Columbine High School students Sarah Fisicaro, right, and Katie Teitsworth embrace after two teenage shooters killed 13 students before killing themselves in Littleton, Colorado.
Jeff Mitchell / Reuters
Red Lake shootings — March 21, 2005
A flag-bearer and several hundred people hold a traditional Native American prayer service in St. Paul, Minnesota, in response to the shootings at Red Lake High School after a young man killed nine people at the school, including five students, before killing himself.
Ann Heisenfelt / AP
Virginia Tech shooting — April 16, 2007
Thousands of Virginia Tech students take part in a mass candlelight vigil to honor the victims of a shooting that took the lives of 32 people when a gunman opened fire on the campus.
Win Mcnamee / Getty Images
Binghamton shootings — April 3, 2009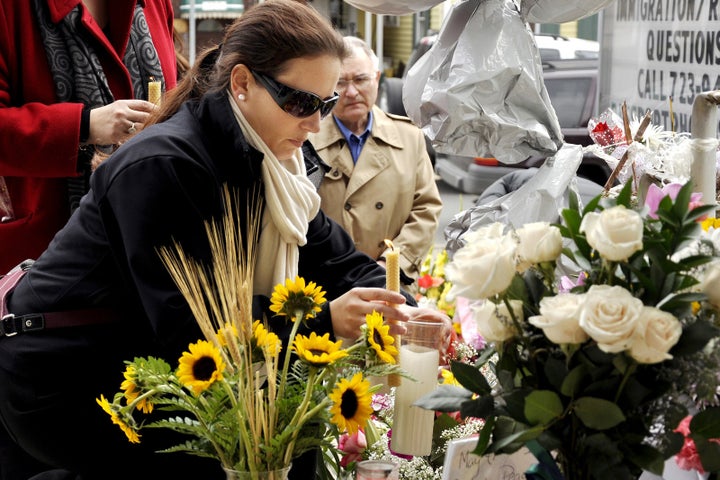 Zoriana Zobniw at the American Civic Association in Binghamton, New York, in honor of her relative, Maria Zobniw, who was among 13 people killed in the shooting.
Heather Ainsworth
Fort Hood shooting — Nov. 5, 2009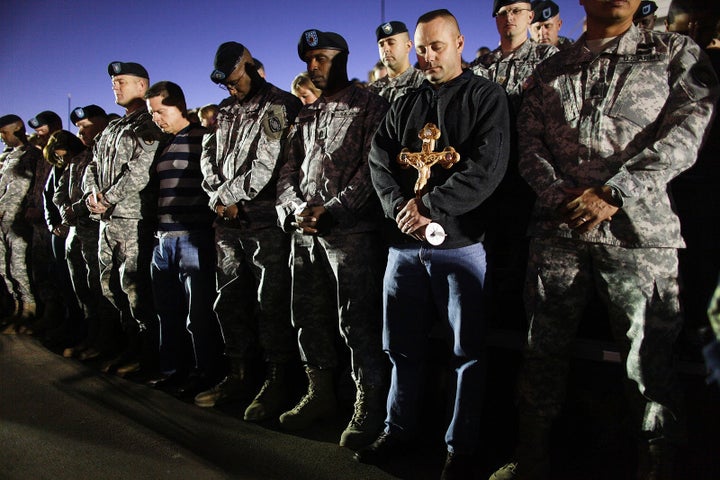 US Army soldiers in prayer during a vigil for those killed and wounded when a soldier went on a shooting rampage on the grounds of Fort Hood in Killeen, Texas. The gunman killed 13 people and wounded 30.
Joe Raedle / Getty Images
Tucson shooting — Jan. 8, 2011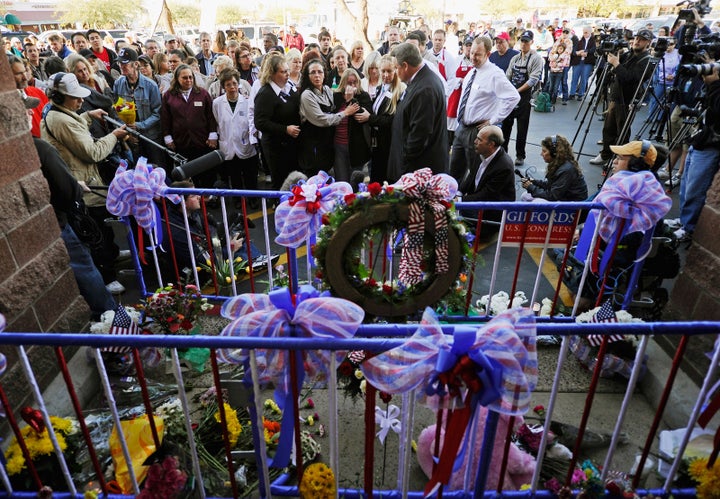 Safeway grocery store employees hold a moment of silence at 10:11 a.m., the moment when a shooting occurred in front of the grocery store killing six and injuring several others.
Kevork Djansezian / Getty Images
Sandy Hook Elementary School shooting — Dec. 14, 2012
A mother hugs her daughter while mourning the victims of a shooter's elementary school rampage that killed 20 children and six adults in Newtown, Connecticut.
Lucas Jackson / Reuters
Aurora shooting — July 20, 2012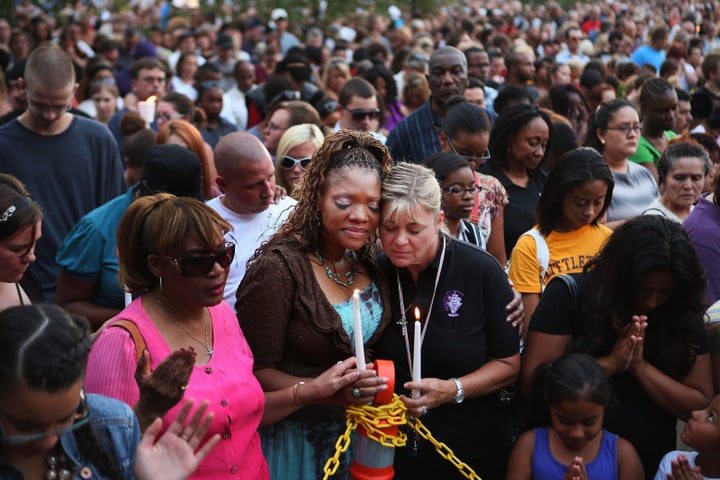 Titia Stillwell and Lori Meade pray with thousands of others during a vigil for the victims of a mass shooting at the Aurora Municipal Center in Aurora, Colorado. The shooter killed 12 people and injured 59 during an early morning screening of The Dark Knight Rises.
Chip Somodevilla / Getty Images
Wisconsin Sikh temple shooting — Aug. 5, 2012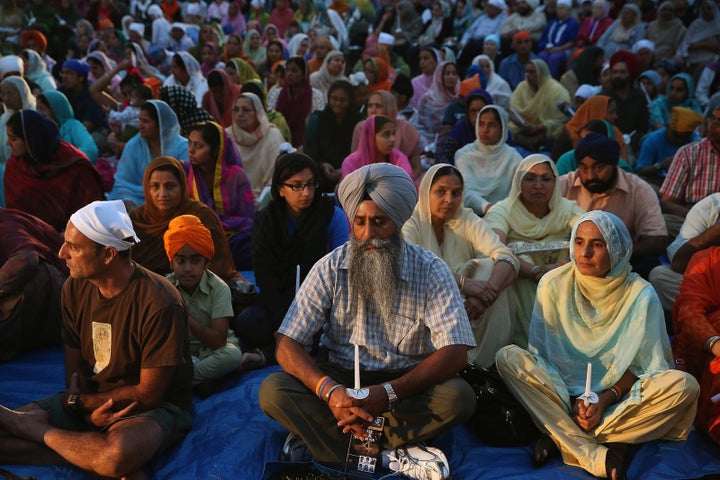 Members of the Sikh Temple of Wisconsin attend a vigil to mark the one-year anniversary of the shooting in Oak Creek, Wisconsin, when a white supremacist killed six members of the temple during a shooting rampage.
Scott Olson / Getty Images
Washington Navy Yard shooting — Sept. 16, 2013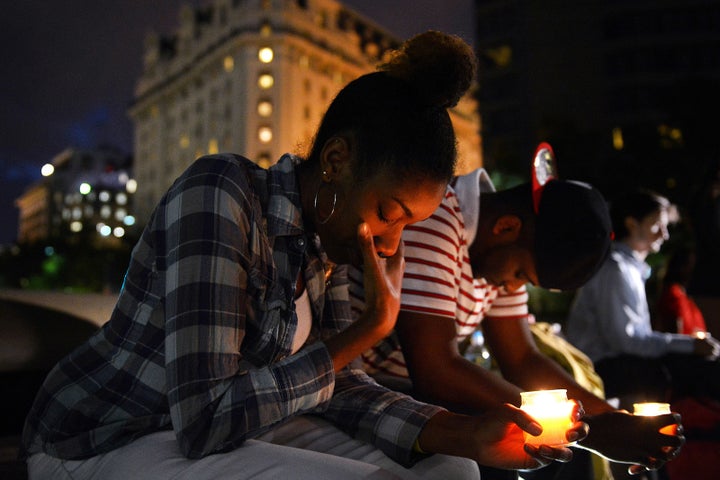 Brittany Carter and Jibri Johnson take part in a vigil for the mass shooting at the US Navy Yard in Washington, DC, which left 12 dead and eight injured.
The Washington Post / Getty Images
Isla Vista killings — May 23, 2014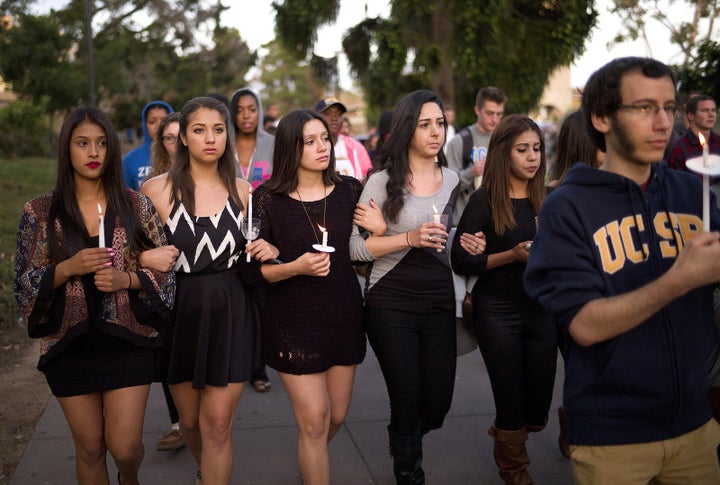 Students march on the campus of the University of California, Santa Barbara, during a vigil held to honor the six victims of a mass killing in Isla Vista, California.
Jae C. Hong / AP
Charleston church shooting — June 17, 2015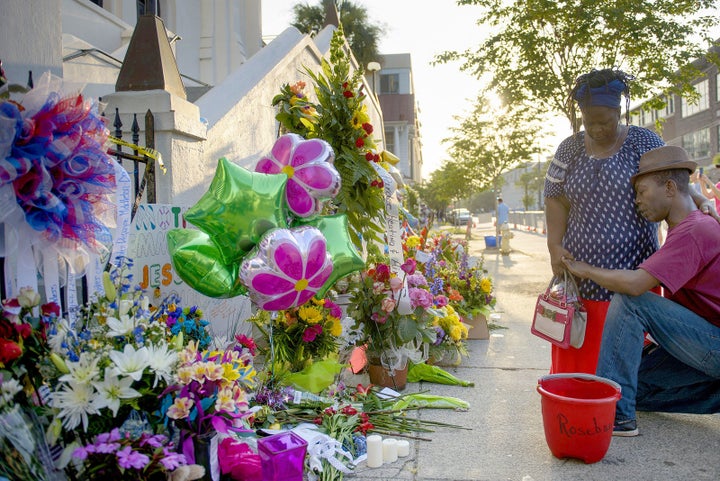 Allen Sanders and his wife, Georgette, at a memorial outside the Emanuel AME Church in Charleston, South Carolina, to remember nine black men and women who were shot and killed by a white supremacist.
Brendan Smialowski / AFP / Getty Images
Chattanooga shootings — July 16, 2015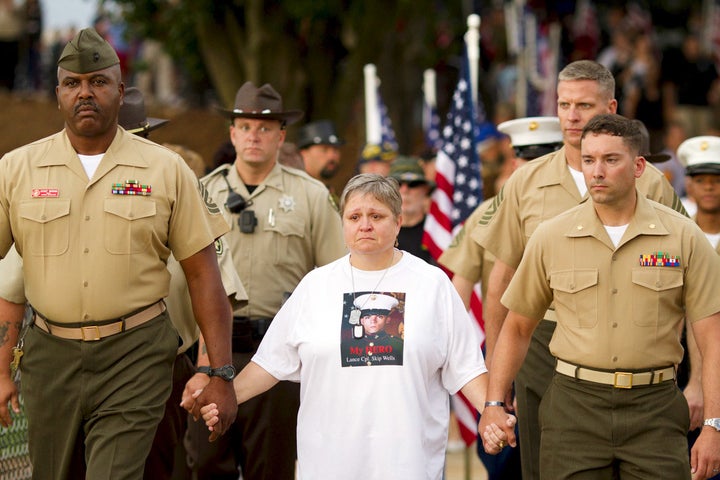 Cathy Wells at her son's vigil in Marietta, Georgia. Wells is the mother of one of the five military servicemen killed in Chattanooga, Tennessee, after a shooter opened fire at a Naval Reserve Center.
Christopher Aluka Berry / Reuters
Umpqua Community College shooting — Oct. 1, 2015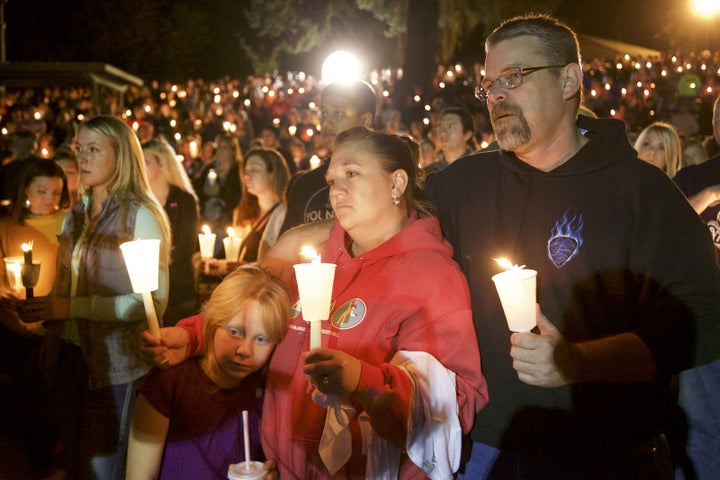 Residents of Roseburg, Oregon, at a vigil for the victims of a shooting in which 10 were killed and 20 injured when a shooter opened fire at Umpqua Community College.
Michael Lloyd / Getty Images
Colorado Springs Planned Parenthood shooting — Nov. 27, 2015
Students at the University of Colorado at Colorado Springs hold a vigil for university police officer Garrett Swasey, who was shot and killed along with two others at the Colorado Springs Planned Parenthood clinic.
Andy Cross / Getty Images
San Bernardino attack — Dec. 2, 2015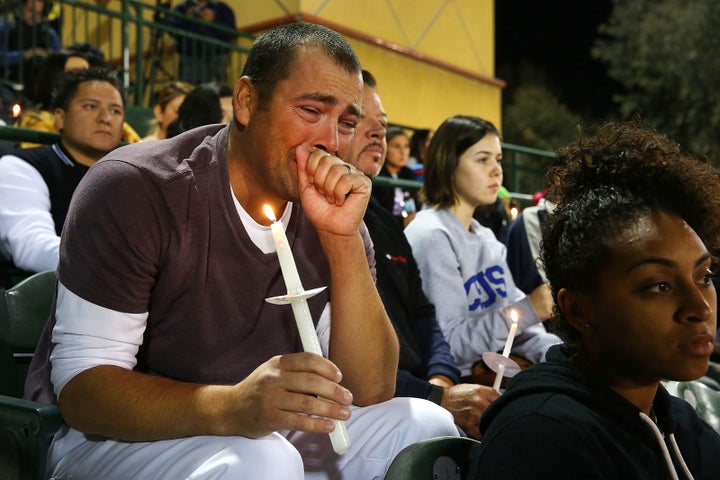 People attend a vigil at the San Manuel Stadium to remember victims of the shooting at the Inland Regional Center in San Bernardino, California, which left 14 people dead and 22 injured.
Joe Raedle / Getty Images
Dallas, Texas — July 7–8, 2016
Civilians and police officers attend a vigil for five officers killed during anti-police brutality protests in Dallas, Texas.
Anadolu Agency / Getty Images
Orlando nightclub shooting — June 12, 2016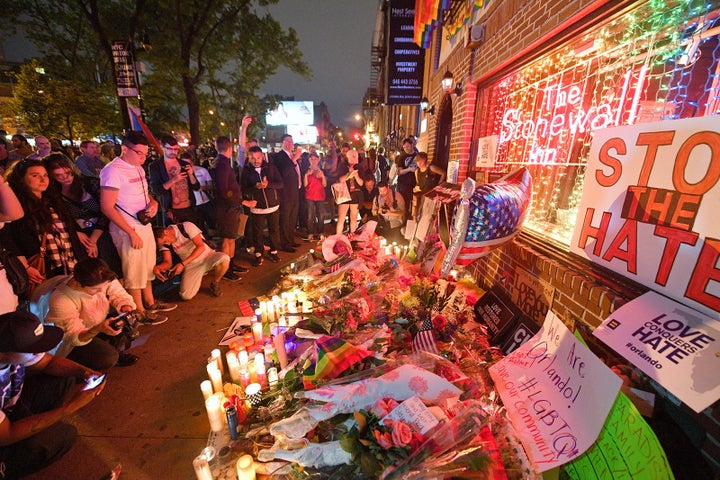 A memorial in front of the Stonewall Inn, paying respects to the 49 people killed and 58 wounded after a shooter opened fire in a gay nightclub.
Prince Williams / WireImage
Congressional baseball shooting — June 14, 2017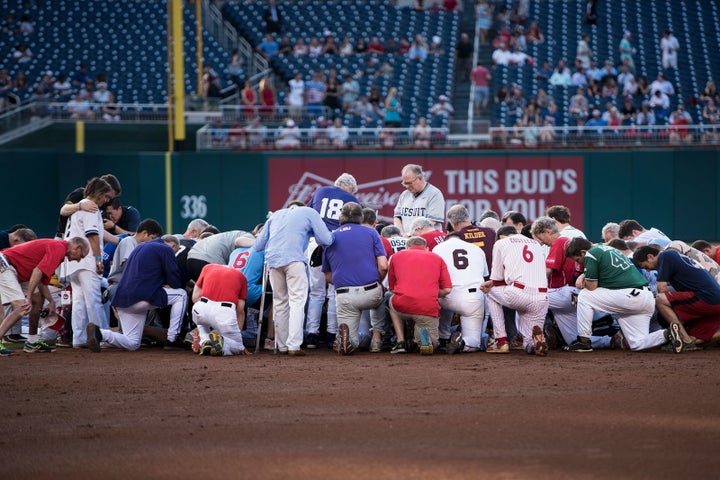 House Chaplain Patrick J. Conroy leads the Republican team in a prayer before the Congressional Baseball Game on June 15, 2017, in Washington, DC. A critic of President Trump opened fire on US lawmakers practicing for the event, seriously wounding a congressman and three others before he was killed by police.
Brendan Smialowski / AFP / Getty Images
Las Vegas shooting — Oct. 1, 2017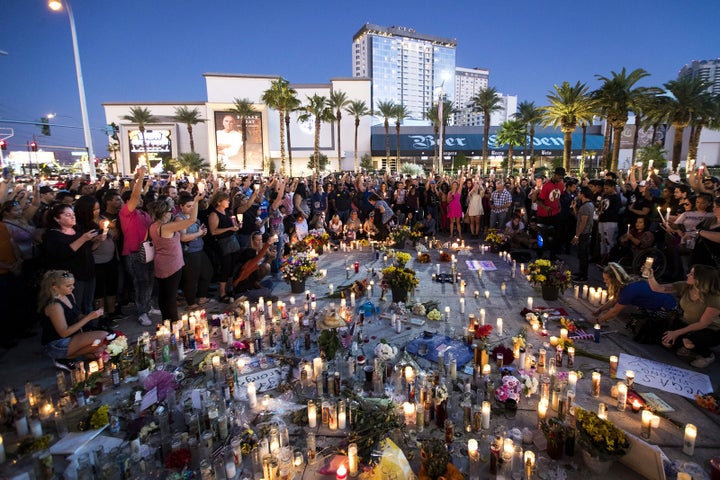 Mourners observe a moment of silence to mark one week since the mass shooting at the Route 91 Harvest country music festival in Las Vegas, Nevada. On Oct. 1, 2017, where a shooter killed 58 people and injured more than 450.
Drew Angerer / Getty Images
Sutherland Springs church shooting — Nov. 5, 2017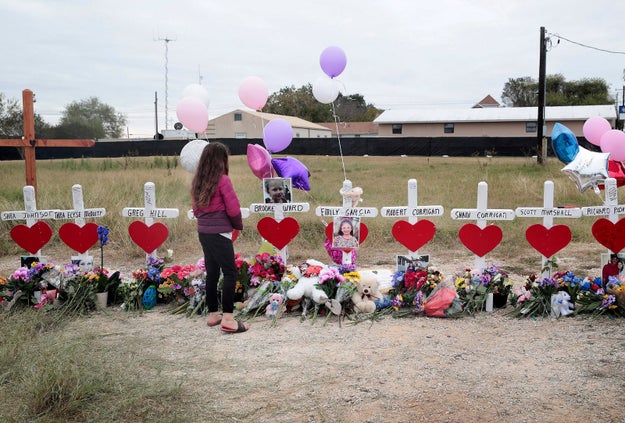 Visitors pay respects at a memorial to honor the 26 victims at the First Baptist Church of Sutherland Springs in Texas after a shooter opened fire during Sunday service.
Scott Olson / Getty Images
Stoneman Douglas High School shooting — Feb. 14, 2018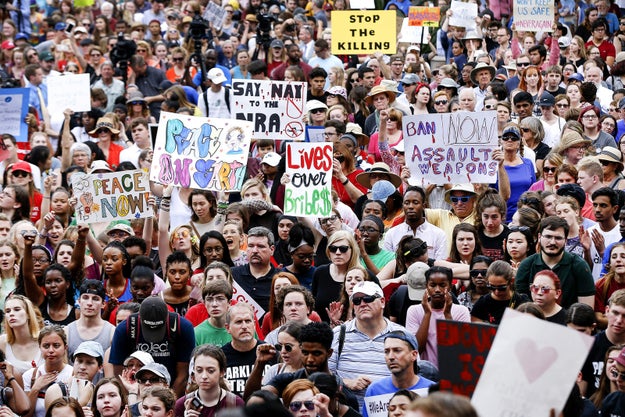 Activists and students from Marjory Stoneman Douglas High School attend a rally at the Florida Capitol to address gun control on Feb. 21 in Tallahassee, Florida, in the wake of last week's mass shooting that left 17 people dead.
Don Juan Moore / Getty Images
Source: https://www.buzzfeed.com/usnews.xml