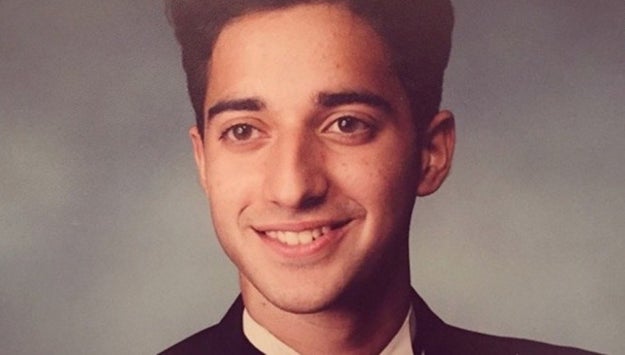 Syed in 1999.
The Law Offices of C. Justin Brown / Via cjbrownlaw.com
Adnan Syed, the Baltimore man who has spent the last 18 years in prison for the murder of his ex-girlfriend Hae Min Lee and was the subject of the hit podcast Serial, enjoyed a court victory on Thursday when an appeals court ruled he was deserving of a new trial.
The Maryland Court of Special Appeals voted 2-1 to find that Syed's "Sixth Amendment right to effective assistance of counsel was violated by trial counsel's failure to investigate McClain as a potential alibi witness."
That potential alibi witness, Asia McClain, claimed to see Syed in the library during the time prosecutors said Lee was murdered. Syed's current lawyer has argued that his original defense attorney, Cristina Gutierrez, had fallen "below the standard of reasonable judgment" during the original trial, and did not call McClain to testify as an alibi witness.
Thursday's decision affirmed a June 2016 lower court ruling from Judge Martin P. Welch, who also granted Syed a new trial and vacated his conviction.
"Trial counsel's deficient performance prejudiced Syed's defense," the two Special Appeals judges wrote, "because, but for trial counsel's failure to investigate [McClain], there is a reasonably probability that McClain's alibi testimony would have raised a reasonable doubt in the mind of at least one juror about Syed's involvement [in] Hae's murder, and thus 'the result of the proceedings would have been different.'"
The case was remanded to a lower court for a new trial on the original charges, with costs to be paid by the Baltimore mayor and city council.
C. Justin Brown, Syed's attorney, and Rabia Chaudry, his friend and public advocate, both celebrated the decision.
Lee, Syed's ex-girlfriend and former Woodlawn High School classmate, went missing in January 1999. Her body was found a month later in a large Baltimore-area park.
After Syed's 2016 court victory, Lee's family issued a statement expressing their disappointment.
"We continue to believe justice was done when Mr. Syed was convicted of killing Hae," the family said.
The case received national attention in 2014 when reporter Sarah Koenig examined it for the podcast Serial, which captured the attention of millions and sparked a widespread interest in Syed and his conviction.
Read Thursday's decision:
This is a developing story. Check back for updates or follow BuzzFeed News on Twitter.
LINK: Adnan Syed Of "Serial" Podcast Is Granted A New Murder Trial
Source: https://www.buzzfeed.com/usnews.xml