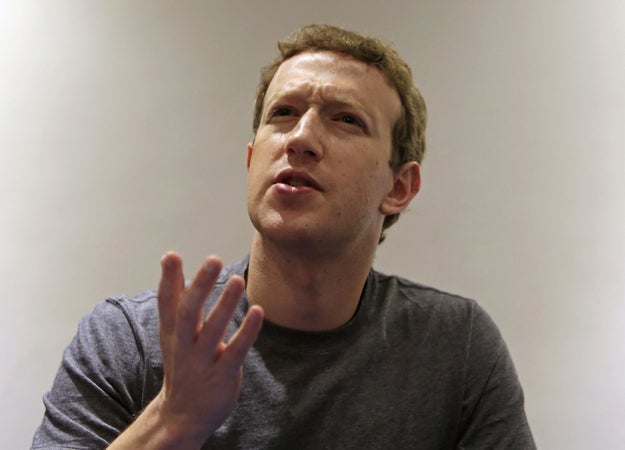 Jose Gomez / Reuters
Facebook CEO Mark Zuckerberg said Thursday that he strongly disagrees with a 2016 memo in which one of the top executives at his company advocated relentless growth, even if "maybe it costs someone a life."
Zuckerberg called Facebook VP Andrew "Boz" Bosworth "a talented leader who says many provocative things," but added the memo was something "that most people at Facebook including myself disagreed with strongly."
"We've never believed the ends justify the means," Zuckerberg said in a statement to BuzzFeed News. "We recognize that connecting people isn't enough by itself. We also need to work to bring people closer together. We changed our whole mission and company focus to reflect this last year."
Zuckerberg's comments were a response a BuzzFeed News report on a memo Bosworth wrote in 2016. In the memo, Bosworth pushed a cutthroat philosophy, writing that "we connect people. Period. That's why all the work we do in growth is justified."
"All the questionable contact importing practices," Bosworth continued. "All the subtle language that helps people stay searchable by friends. All of the work we do to bring more communication in. The work we will likely have to do in China some day. All of it."
At another point, Bosworth wrote that the effects of connecting more people "can be bad if they make it negative. Maybe it costs someone a life by exposing someone to bullies."
"Maybe someone dies in a terrorist attack coordinated on our tools," he added.
The memo was titled "The Ugly" and had not previously been circulated outside the company. Two former Facebook employees told BuzzFeed News that Bosworth is known at the company for being blunt.
News of the memo comes as Facebook faces intense backlash over revelations about the use of its data by political consulting firm Cambridge Analytica, which did work for Donald Trump's campaign. The fallout over the Cambridge Analytica scandal has raised questions about Facebook's business practices and handling of users' data, and has sent the company's stock spiraling downward.
LINK: Growth At Any Cost: Top Facebook Executive Defended Data Collection In 2016 Memo — And Warned That Facebook Could Get People Killed
Source: https://www.buzzfeed.com/usnews.xml