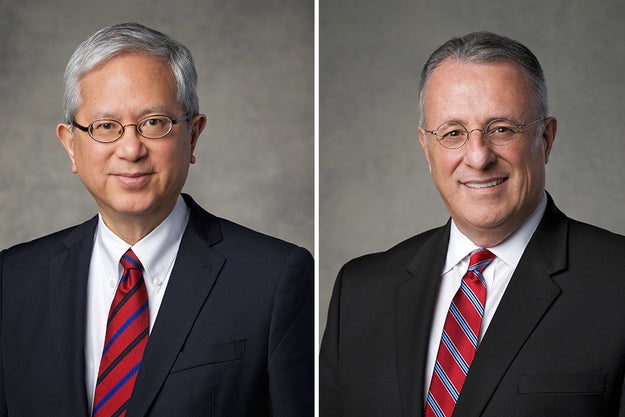 Gerrit Gong, left, and Ulisses Soares.
LDS Church
The Mormon church appointed an Asian American man and a Brazilian man to top leadership positions Sunday, marking a historic moment for the faith that — since its founding in the 1800s — had previously only had top leadership with European ancestry.
Gerrit Gong and Ulisses Soares both joined the Quorum of the Twelve Apostles, which is the second highest governing body of the Church of Jesus Christ of Latter-day Saints, often known informally as the Mormon Church. The quorum has broad authority to govern the church and is second only to the three-person First Presidency.
Gong, 64, was born in Redwood City, California, and is of Asian ancestry. Soares, 59, was born in São Paulo, Brazil.
The appointments are the first since Russell M. Nelson took over as president of the church in January, following the death of the previous president Thomas S. Monson.
This is a developing story. Check back later and follow @BuzzFeedNews on Twitter for updates.
Source: https://www.buzzfeed.com/usnews.xml