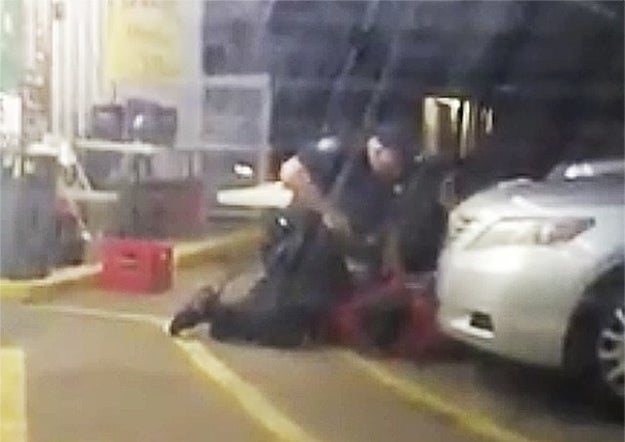 In this July 5, 2016 file photo taken from video footage, Alton Sterling is held by two Baton Rouge police officers, with one holding a hand gun, outside a convenience store.
Arthur Reed / AP
The Baton Rouge police officer who shot and killed Alton Sterling outside a convenience store in 2016, sparking nationwide protests, has been fired, officials announced Friday.
"Our police officers are held to a higher standard, fear cannot be a driver for an officer's response to every incident. Unreasonable fear within an officer is dangerous," Baton Rouge Police Chief Murphy Paul said.
Blane Salomoni, who was fired, was one of two officers who struggled with Sterling July 5, 2016, firing six shots that proved fatal and sparked a series of protests throughout the Baton Rouge area.
The officers were responding to a 911 call about a man brandishing a gun and threatening someone in the parking lot of the Triple S Food Mart. When they arrived, they found Sterling, 37, who had been selling CDs in the parking lot.
According to the Justice Department, which reviewed the shooting, the officers ordered Sterling to put his hands on the hood of a car. He initially refused and a struggle ensued, at which point Salamoni drew his gun and pointed it at Sterling's head.
Sterling then placed his hands on the hood of the car. When he tried to move his hands, the other officer, Howie Lake II, used a taser. His partner, who did fire his gun, was suspended for three days.
Eventually all three men ended up struggling on the ground. In video of the altercation, the two officers can be seen pinning Sterling, and at one point, once can be heard yelling, "he's got a gun." Seconds later, a series of shots are heard.
[youtube https://www.youtube.com/watch?v=K_jwC06LCdM&w=560&h=349]
According to a police report, the officers said they saw a gun in Sterling's pocket during the altercation. And in the video, one of the officers can be seen removing an object from Sterling's pocket.
The disciplinary action taken against Salomoni came just days after Louisiana's attorney general announced his decision that the two white police officers would not be criminally charged in Sterling's death. That decision came 11 months after the Department of Justice came to a similar conclusion.
LINK: Two White Police Officers Will Not Be Charged In The Shooting Death Of Alton Sterling
LINK: Police Officers Who Fatally Shot Alton Sterling Won't Face Federal Charges
Source: https://www.buzzfeed.com/usnews.xml