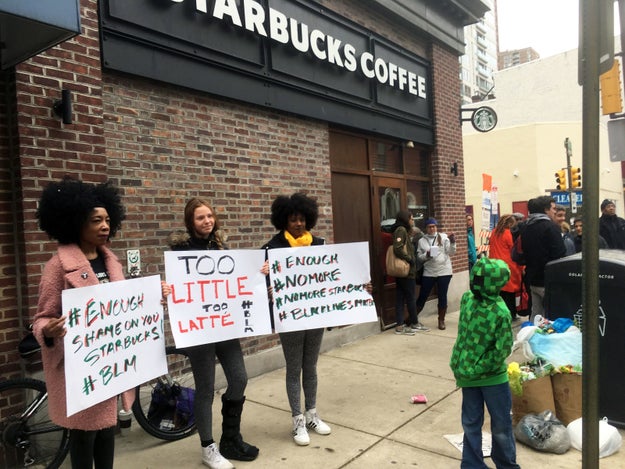 Protesters gather outside a Starbucks in Philadelphia, on April 15, 2018.
Ron Todt / AP
Starbucks will close more than 8,000 stores and corporate offices in the US on the afternoon of May 29 to hold anti-racial-bias trainings as the company struggles to cope from the fallout of two black men being arrested at a location in Philadelphia.
Fierce backlash against the coffee chain followed after video of the two men being arrested on April 12, despite being defended by other customers, went viral. Witnesses said the two men hadn't ordered anything while they were waiting for a friend, but the manager asked them to leave and called police. Their names have not been released.
Nearly 175,000 employees will take part in the anti-racial bias trainings when the stores close, according to a statement from Starbucks. The curriculum, developed with several partners, including the NAACP and a former US attorney general, will also become part of the training for new hires, the company said.
"Closing our stores for racial bias training is just one step in a journey that requires dedication from every level of our company and partnerships in our local communities," CEO Kevin Johnson said.
He and Starbucks founder Howard Schulz have met with the two men who were arrested and other Philadelphia community members over the past few days.
"We will learn from our mistakes and reaffirm our commitment to creating a safe and welcoming environment for every customer," Schulz said in a statement.
Starbucks did not immediately respond to request for additional comment.
LINK: Two Black Men Were Arrested In Starbucks. Witnesses Say They "Didn't Do Anything."
LINK: Head Of Starbucks Calls The Arrest Of 2 Black Men "Reprehensible" And Says He Will Take The Blame
Source: https://www.buzzfeed.com/usnews.xml