"We have never seen this level of damage to a Model X in any other crash," the company said.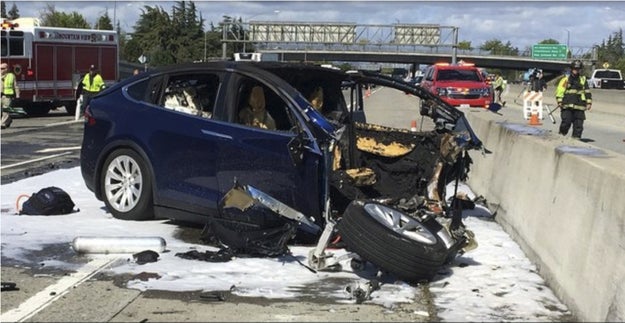 A Tesla SUV involved in a fatal crash in Northern California last week was driving with its semiautonomous Autopilot system engaged moments before it struck a freeway divider, the electric vehicle company said late Friday.
Walter Huang was killed when his Model X crashed on March 23 into a concrete lane divider on Highway 101 in Mountain View, California. Huang's family told KGO-TV that he had repeatedly complained that the car's semiautonomous system kept veering toward that same barrier.
In a statement, Tesla said the car's logs show that Autopilot was engaged with the adaptive cruise control function and that the driver had received several warnings prior to the crash.
"The driver had about five seconds and 150 meters of unobstructed view of the concrete divider," the statement said. "Vehicle logs show that no action was taken."
On Tuesday, the company said a safety barrier that protects vehicles from the concrete divider was missing at the time of the deadly crash.
KTVU via AP

Tesla posted a photo showing the missing barrier, reportedly taken the day before the collision, next to a Google street view image of the same location with the barrier.
"The reason this crash was so severe is that the crash attenuator, a highway safety barrier which is designed to reduce the impact into a concrete lane divider, had either been removed or crushed in a prior accident without being replaced," the company said. "We have never seen this level of damage to a Model X in any other crash."
A Tesla spokesperson declined to comment further and referred BuzzFeed News to the company statements.
Tesla
Source: https://www.buzzfeed.com/usnews.xml