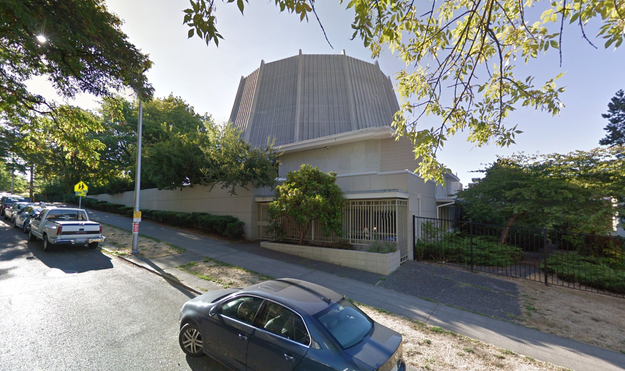 Google Maps
Seattle police are investigating anti-Semitic graffiti on the wall of a local Jewish temple that denied the Holocaust — the latest incident in a series of threats and harassment targeting the Jewish community nationwide in recent weeks.
The graffiti, which read "Holocaust is fake history!", was discovered Friday morning by an off-duty officer on the facade of the Temple De Hirsch Sinai, police said in a statement. (A dollar sign appeared to be used in place of the letter S in the graffiti).
"The officer contacted the temple and documented the hate-graffiti, and police are conducting additional patrols in the area," the police department said.
Seattle police's bias crimes unit is also investigating.
A Temple spokesperson did not immediately respond to a request for comment.
"Temple continues to take vigilant, substantive security measures to insure the safety and well-being of our community," Rabbi Daniel Weiner wrote in a message on the temple's Facebook page. "In light of other recent threats and upcoming celebrations, we have further enhanced these measures."
The US Jewish community has been alarmed by more than 100 threats made against them in 2017.
On Tuesday, Jewish centers and schools in at least nine states and the District of Columbia received confirmed bomb threats, forcing evacuations and closures — the sixth such time this year that Jewish facilities have been targeted.
A former disgraced journalist, Juan Thompson, was arrested and charged March 3 in connection with threats in eight states. Federal officials claim Thompson made the threats as a hoax to get revenge on an ex-girlfriend.
The Department of Homeland Security on Thursday condemned what Secretary John Kelly described as " an unacceptable and disturbing rise in the number of apparent hate-inspired attacks and harassment against individuals and communities."
"I strongly condemn any violent acts to perpetuate fear and intimidation not only against individuals, but entire communities," Kelly said in a statement that did not explicitly mention the Jewish community. "I pledge the full support of the Department of Homeland Security to assist local, state, and federal investigations into these incidents."
Rabbi Weiner said he and his congregants would look to God for inspiration "to perfect a broken world."
"As we take all of these precautions, we are also adamant in our conviction that we will not allow the toxicity of intolerance and growing climate of hate to define who we are, how we live, and what our nation can be," Weiner wrote.
LINK: A Sixth Wave Of Bomb Threats Has Hit Jewish Centers Around The United States
Source: https://www.buzzfeed.com/usnews.xml