#1: The Media.
The Media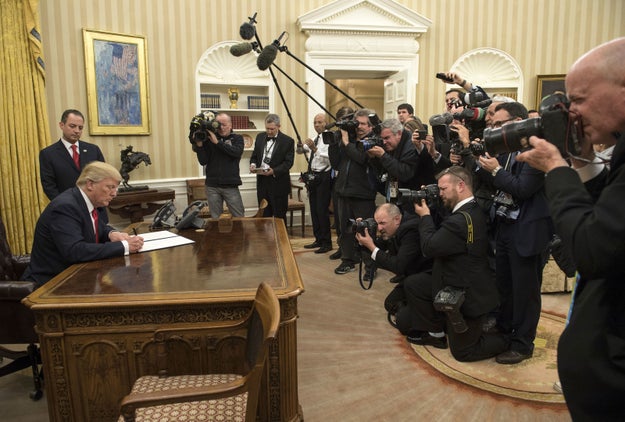 Pool / Getty Images
President Trump frequently — and famously — rails against any critical media coverage of his administration by denouncing it as "fake news."
In 2017, he has tweeted that the media is lying about infighting in his administration, problems with the Republican healthcare bill, the size of his rally crowds, declining levels of public support, his relationship with intelligence agencies, and an angry phone call with the Australian prime minister, among other things.
He has listed CNN, NBC, ABC, CBS, and the New York Times, as among the outlets he considers to be "fake news" and "failing" media. (He has also called BuzzFeed a "failing pile of garbage.")
"The press honestly is out of control," Trump said at a White House news conference last month. "The level of dishonesty is out of control."
The Courts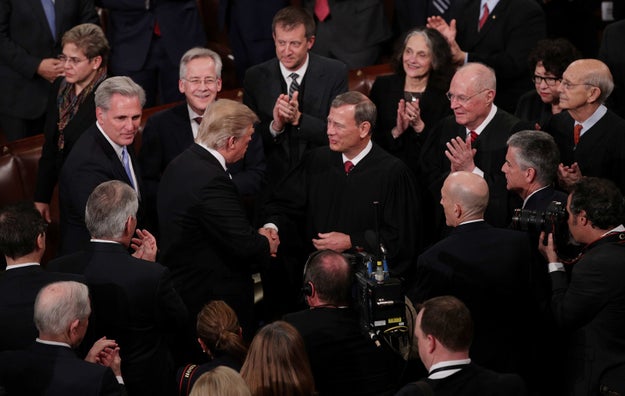 Alex Wong / Getty Images
After his first travel ban was blocked in federal court in early February, the president attacked the Washington state judge whose ruled against his administration.
"The opinion of this so-called judge, which essentially takes law-enforcement away from our country, is ridiculous and will be overturned!" he tweeted on Feb. 4.
He implied US District Court Judge James Robart, who was appointed under President George W. Bush, had overstepped his authority and endangered the nation as a result of his decision: "What is our country coming to when a judge can halt a Homeland Security travel ban and anyone, even with bad intentions, can come into U.S.?" he tweeted.
The attack came after Trump in 2016 said a US-born judge of Mexican heritage should not be able to hear a case against him because he had a "conflict of interest" due to his proposal to build a border wall.
Trump's own pick for the Supreme Court, Judge Neil Gorsuch, has said the president's attacks on the judiciary are "disheartening" and "demoralizing."
---
Source: https://www.buzzfeed.com/usnews.xml