The owner of UndergroundNewsReport.com says he's been getting hate mail since Goldberg's The View segment aired.
Whoopi Goldberg has been the subject of many fake news stories — but one in particular caused her to recently address the issue on The View.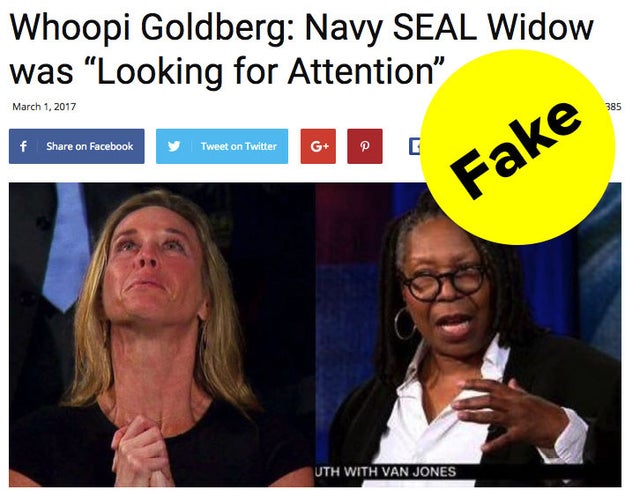 The fake article, written by an American living in Costa Rica, was posted after Donald Trump's speech to the joint session of Congress this year. It falsely claimed Whoopi Goldberg said the "Navy SEAL Widow was 'Looking for Attention'" on an episode of The View — but she said no such thing. It garnered just over 55,000 reactions, comments, and shares online, according to social sharing app Buzzsumo.
Goldberg began the segment by saying she has always had a good relationship with veterans and their wives, and reiterating that the Underground News Report article was a lie.
"When you look on our website, you can see everything that we say, our shows are posted," she said. "Unfortunately, people don't do that, and you end up in a situation like you did in Washington where the guy read that a pizzeria was running a child porn ring in the pizza shop. And a man took a gun in there and shot it up."
She was worried a similar thing could have happened to her. "If I hadn't been made aware of this, I could have found out about this at the end of the barrel of a gun," she said.
The panel talked about how America's defamation laws are not strong enough to protect against fake news, and Goldberg called for legislation requiring consent from the subject of a fake article before it's posted.
The segment ended with Goldberg threatening to sue McDaniel.
"Sir, the fact that you don't give a crap that it endangered me is unconscionable. I'm gonna get my lawyer and I'm coming for you," she said.
Goldberg's publicist told BuzzFeed News, "Whoopi's comments on the show today speak for themselves, there is nothing else to report at this time." He did not respond to follow-up questions about the timing of the potential lawsuit or whether Goldberg would accept other resolutions.
---
Source: https://www.buzzfeed.com/usnews.xml