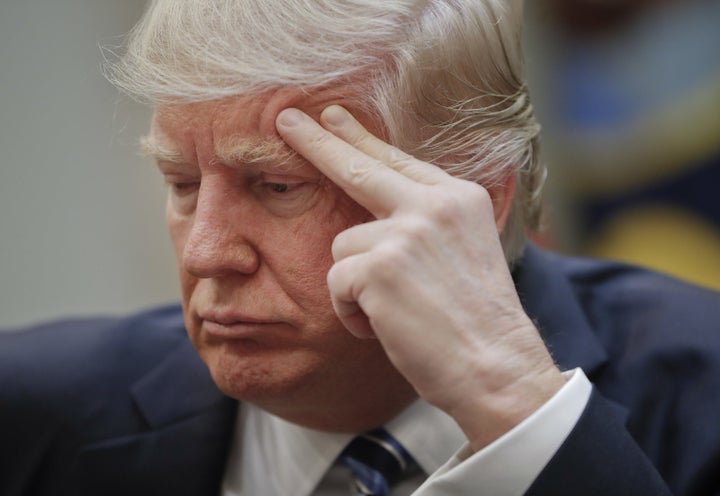 Pablo Martinez Monsivais / AP
The White House released some limited details on President Donald Trump's tax returns Tuesday night, just minutes before MSNBC's Rachel Maddow was set to release details on Trump's 2005 tax returns.
Trump paid $38 million in taxes on an income of $150 million, according to a White House statement.
The statement also criticized the MSNBC host for the report, calling it "desperate for ratings" and pointing out the returns were from "over a decade ago."
The statement seemed to defend the amount of taxes paid by Trump in 2005.
"Before being elected President, Mr. Trump was one of the most successful businessmen in the world with a responsibility to his company, his family and his employees to pay no more tax than legally required," the statement read.
The tax return, Maddow said on air, was given to journalist David Cay Jonston, a Pulitzer Prize winning reporter whose work has focused on economics and taxes.
"This is the first time that we have any federal tax returns for Donald Trump have been obtained by anyone, certainly by any news organization," Maddow said.
Trump has refused to release any details about his tax returns, citing an ongoing audit by the IRS. Details from his 2005 filing would be the most recent information about the president's complex finances.
The New York Times previously reported on Trump's 1995 tax returns, which showed that he could have been able to avoid paying income taxes for up to 18 years.
Trump, who has amassed a fortune from his career in real estate, reported a massive loss of $916 million in his 1995 tax returns, more than 20 years before he began his successful bid for the White House.
Tax experts told the Times Trump would have been able to use that loss to cancel any taxable income for the following 18 years, including income he would have been paid for each episode of NBC's The Apprentice.
The tax forms obtained by MSNBC's The Rachel Maddow Show, show a more recent picture of Trump's finances and taxable income before beginning his campaign for the White House.
This is a developing story. Check back for updates and follow BuzzFeed News on Twitter.
Source: https://www.buzzfeed.com/usnews.xml