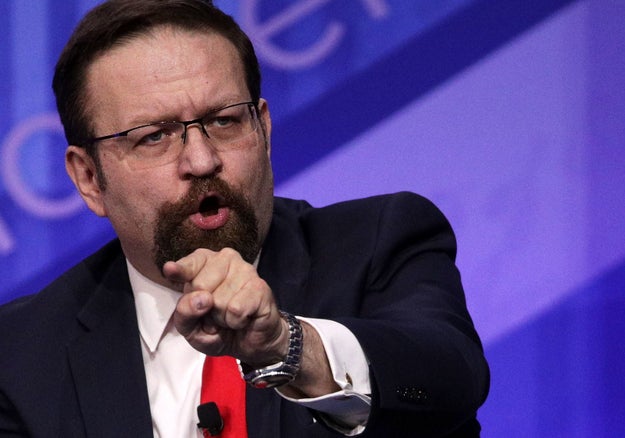 Alex Wong / Getty Images
Sebastian Gorka, a top national security adviser to President Trump, stonewalled when BuzzFeed News asked about a report that he belongs to a Nazi-allied group.
"Send a request to White House press," Gorka told BuzzFeed News.
On Thursday, The Forward reported that Gorka is a member of Vitézi Rend, a Hungarian group that the U.S. State Department says was "under the direction of the Nazi Government of Germany."
The report also claims that if Gorka – who was born in the UK, lived in Hungary, ​and became a US citizen in 2012​ — did not disclose this information when entering the country, ​the omission of this information ​would have implications for his immigration status.
"The State Department's Foreign Affairs Manual specifies that members of the Vitézi Rend 'are presumed to be inadmissible' to the country under the Immigration and Nationality Act,'" The Forward reported.
The leaders of Vitézi Rend said that Gorka took "a lifelong oath of loyalty to their group."
Steven Goldstein, executive director of the Anne Frank Center, an independent US organization, linked Gorka's non-denial of connections to the group to what Goldstein calls the White House's "weak reactions" to the recent spike in anti-semitic hate crimes.
"This administration has staff with shockingly anti-semitic pasts and it is hard to imagine that they have nothing to do with the horrifically weak reactions to anti-semitic hate crimes that we see coming from this administration," Goldstein said. "That Sebastian Gorka cannot even deny that he has links with a Nazi affiliated group is symptomatic of the grotesque anti-semitism that has infected the Trump White House."
This is a developing story. Check back for updates and follow BuzzFeed News on Twitter.
Source: https://www.buzzfeed.com/usnews.xml