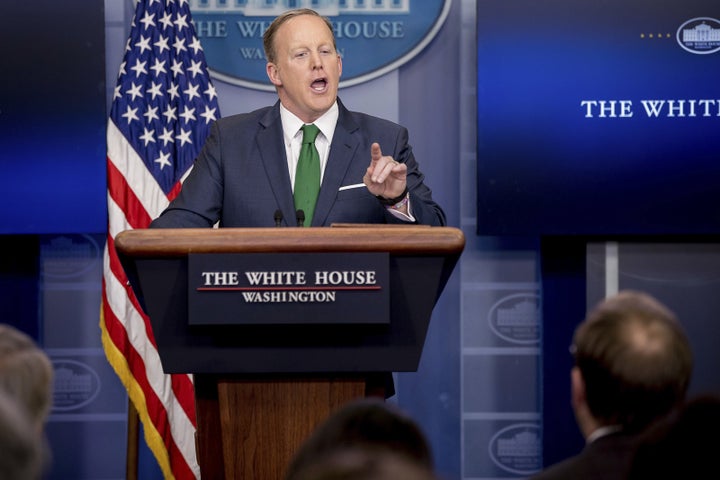 Andrew Harnik / AP
The White House apologised to the British government on Friday after Press Secretary Sean Spicer appeared to suggest the Obama administration asked Britain's Government Communications Headquarters (GCHQ), an intelligence and security agency, to spy on Trump.
A Downing Street source told BuzzFeed News the UK government "made clear the allegations were ridiculous and received reassurances that they would not be repeated" following a discussion with US counterparts.
The previous day GCHQ made an extremely rare public comment, describing claims it had been asked by the Obama administration to conduct surveillance on then-presidential candidate Donald Trump as "utterly ridiculous."
The rebuke came shortly after White House Press Secretary Sean Spicer cited Fox & Friends' Tuesday show while trying to defend the president's allegation of wiretapping. On the program, Fox News' judicial analyst Andrew Napolitano claims that three intelligence sources had told him that Obama called on the services of GCHQ.
In a statement to BuzzFeed News, a spokesman for the British agency refuted the claim.
"Recent allegations made by media commentator Judge Andrew Napolitano about GCHQ being asked to conduct 'wire tapping' against the then-president-elect are nonsense," the agency said. "They are utterly ridiculous and should be ignored."
The report, however, was among those cited by Spicer during a tense press briefing at the White House Thursday.
"All we're doing is literally reading off what other stations and people have reported, and I think that casts into concern some of the activities that may have occurred during the 2016 election," Spicer said. "I think that the idea is to say, 'If these organizations and these individuals came to these conclusions, they merit looking into.'"
Spicer also cited multiple New York Times reports that have referred to intercepted communications that are part of an inquiry into possible Russian connections to Trump's campaign.
The articles, including one published on Jan. 20 that has been repeatedly cited by Trump and Spicer, mention intercepted communications involving foreign officials, but do not claim the president was "wiretapped," as he claimed in a series of tweets.
Spicer defended the president's claims and refused to offer any evidence to back up the extraordinary allegation after the chairman and vice chairman of the Senate intelligence committee said there were "no indications" that Trump Tower was the subject of surveillance by any element of the United States government.
LINK: Leaders Of The Senate Intelligence Committee Say There's No Evidence Trump Was Wiretapped
LINK: This Is Why It's A Big Deal For GCHQ To Publicly Deny The White House's "Wiretapping" Claims
Source: https://www.buzzfeed.com/usnews.xml