Mark Duncan / AP
Chuck Berry, a legendary pioneer in the world of rock, died Saturday afternoon in Missouri, police said.
The legendary musician was one of the early faces of American rock and roll with classic hits like "Roll Over Bethoven," and "Johnny B. Goode."
He was 90 years old, and set to release a new album.
St. Charles County Police said they were called to a home at 12:40 p.m. and found the musician unresponsive.
Officers administered lifesaving techniques but were unable to revive him, police said in a statement.
[youtube https://www.youtube.com/watch?v=6ROwVrF0Ceg&w=560&h=349]
Chuck Berry was born Charles Edward Anderson Berry and was originally from Missouri. He performed while in high school and burst into the early rock and roll scene with "Maybellene" in 1955.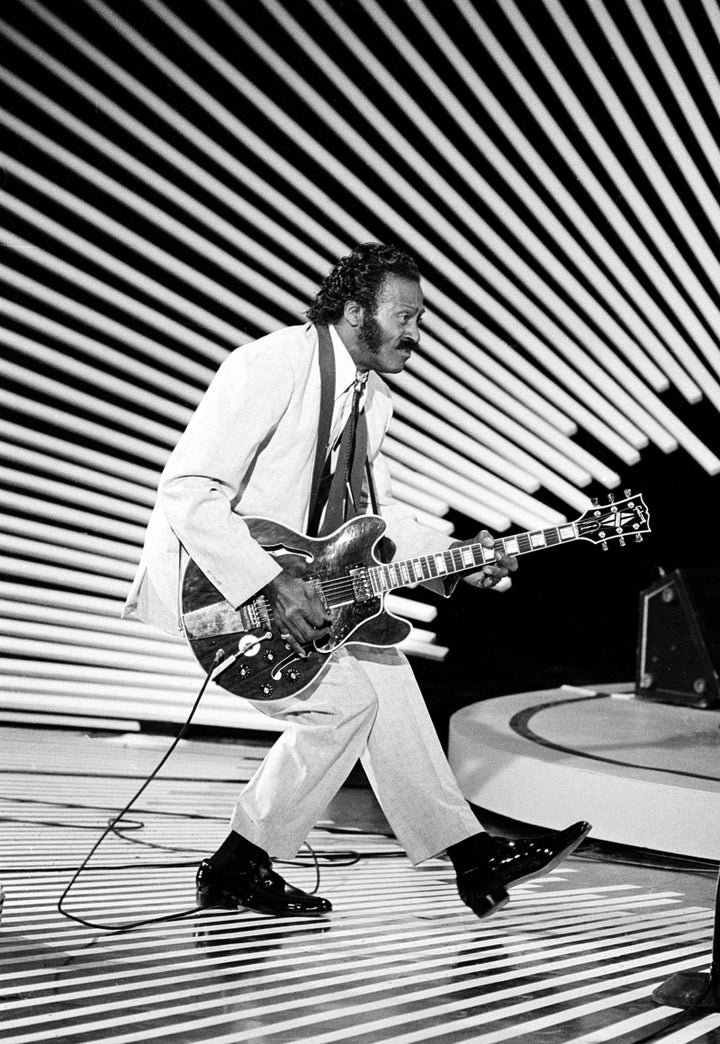 / AP
With guitar riffs and an energetic spirit on stage, Berry became one of the architects of rock 'n' roll. He sang about big Cadillacs, teenage dances and young musicians who, like him, wanted only to have his name in lights and play guitar.
His influence on music was literally out of this world – his iconic "Johnny Be Goode" record was among the music included in the 1977 Voyager Golden Records, which were launched into space on the Voyager 1 spacecraft.
Despite his age, Berry continued to stay in the public spotlight for years, making appearances in movies and tribute concerts.
He was inducted into the Rock and Roll Hall of Fame in its first year, wrote his autobiography, and in the 1985 film Back to The Future, he played the role of a musician in the back of the stage as Michael J. Fox's character plays a rendition of "Johnny Be Goode."
Berry had said he had been influenced multiple artists, but primarily but said in the Tonight Show in 1987 that Louis Jordan was his main inspiration as an artist. He also cited other influences like Nat Cole, Bennie Goodman, Carl Hogan and Muddy Waters.
He would go on to influence artists of his own, including the Rolling Stones' Keith Richards, who referred to Berry as one of his main influences as a guitar player and songwriter.
Richards told Jimmy Kimmel on the Tonight Show he once couldn't resist touching and playing Berry's guitar during a show, after Berry had left it laid out in a dressing room.
Berry punched Richards in the face when he found him holding his guitar, Richards said, warning him that "nobody touches my guitar."
"That's one of Chuck's biggest hits," Richards said .
[youtube https://www.youtube.com/watch?v=kT3kCVFFLNg&w=560&h=349]
After nearly 40 years, Berry announced he was set to release a new album with new songs in 2017. He made the announcement on his 90th birthday, Oct. 18.
It was to be titled simply, "Chuck."
"This record is dedicated to my beloved Toddy," Berry is quoted in the press release for the album, referring to his wife of 68 years. "My darlin' I'm growing old! I've worked on this record for a long time. Now I can hang up my shoes!"
This is a developing story. Check back for updates and follow BuzzFeed News on Twitter.
Source: https://www.buzzfeed.com/usnews.xml