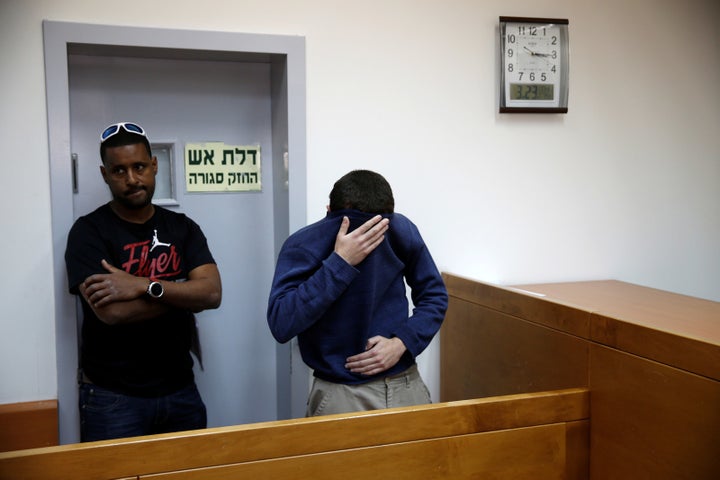 The teen covers his face as he appears at a remand hearing at Magistrate's Court in Rishon Lezion, Israel, on Thursday.
Baz Ratner / Reuters
A 19-year-old dual American-Israeli citizen has been arrested in connection with many of the bomb threats to Jewish centers and schools around the US since the start of 2017, the FBI confirmed to BuzzFeed news.
The arrest was first reported by The Jerusalem Post.
Local police told Post that the man is suspected of threats targeting the US, Europe, Australia and New Zealand over the past six months.
Authorities searched the man's house on Thursday. His father has also reportedly been detained.
BuzzFeed News tallied that more than 100 threats have been made to Jewish community centers and schools around the US since the start of 2017.
Over the past few weeks, US law enforcement sources have confirmed that the persons responsible for the threats used intricate technology — like voice-masking and caller-ID spoofing — to shield their identity.
Israeli police told the Post that a search of the suspect's house showed that he was using some technology to hide who he was, but they didn't specify what sort of methods.
Police have not identified the suspect but he is expected to appear in an Israeli court Thursday afternoon.
Earlier this month, a disgraced American journalist, Juan Thompson, was arrested and charged in US federal court with cyberstalking related to eight of the more than 100 threats made to American organizations. He is scheduled to appear in a Manhattan court on April 5.
Israeli Minister of Public Security Gilad Erdan put out a statement commending the Israeli police "on leading a complex international investigation, together with law enforcement agencies from around the world."
"We hope that this investigation will help shed light on some of the recent threats against Jewish institutions, which have caused great concern both among Jewish communities and the Israeli government," Erdan said.
The Anti-Defamation said on Twitter that they are relieved by the news of an arrest.
This is a developing story. Check back here and follow @BuzzFeedNews for more updates.
Source: https://www.buzzfeed.com/usnews.xml