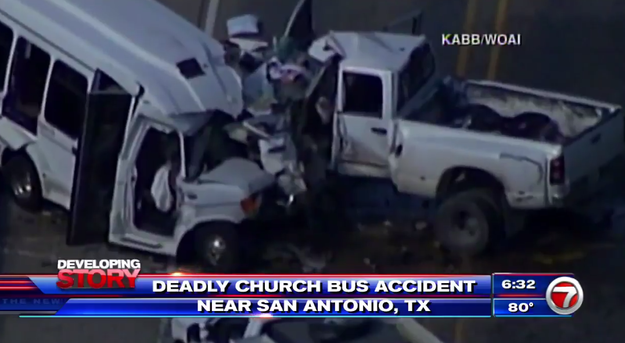 WSVN / Via Twitter: @wsvn
Twelve members of a senior church group died in Texas Wednesday when their bus was involved in a head-on collision.
The bus collided with a pick up truck about 90 miles west of San Antonio, Texas Department of Public Safety Lt. Johnny Hernandez told BuzzFeed News. The crash happened just before 12:30 pm.
The bus had been carrying members of the First Baptist New Braunfels Church who were returning from a retreat.
The crash also left three people injured, Hernandez said, including the driver of the pickup truck. Hernandez described the crash as a "head-on collision," but said the cause was still under investigation.
Images from the scene Wednesday afternoon showed debris strewn across the highway and the wreckage of the two vehicles still intertwined.
KENS 5 / Via kens5.com
The bus had been carrying 14 church members, the Associated Press reported. According to the church, they had just spent three days at the Alto Frio Baptist Encampment a few miles north of crash site.
In response to the collision, the church canceled all Wednesday night activities and in a statement requested that people "pray for those who lost their loved ones and for the church family."
Texas Gov. Greg Abbott also called the crash "tragic" in a statement.
"We are saddened by the loss of life and our hearts go out to all those affected," Abbott added.
Source: https://www.buzzfeed.com/usnews.xml