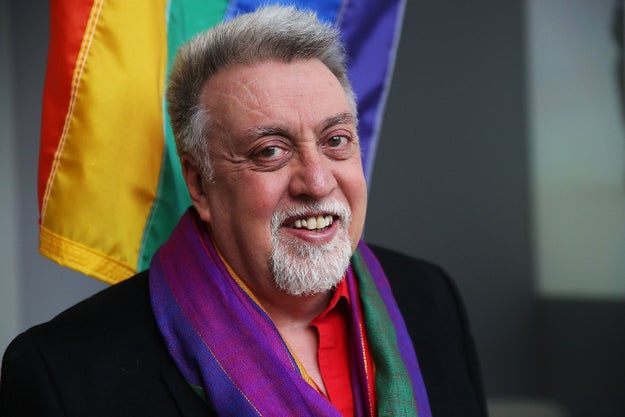 Spencer Platt / Getty Images
Gilbert Baker, the man who created the rainbow flag — an iconic symbol of the gay, lesbian, bisexual, transgender movement — died Thursday. He was 65.
Baker's death was announced on Twitter by activist and author Cleve Jones, who called him his "dearest friend in the world."
"Gilbert gave the world the Rainbow Flag; he gave me forty years of love and friendship. I can't stop crying. I love you forever Gilbert Baker," Jones wrote on Facebook.
Baker was born in Kansas in 1951 and served in the US Army from 1970-72 stationed in San Francisco. After he was honorably discharged, he stayed in San Francisco and taught himself to sew. During the beginning of the gay liberation movement, Baker was tasked by friend Harvey Milk with making banners for gay and anti-war street protests.
Milk rode under the first rainbow flags that Baker made on June 25, 1978, at the San Francisco Gay Freedom Day Parade. That same year, Milk was elected to office, but assassinated a short time later.
On his website, Baker credited Milk with "inspiring his work with the message of hope." He recreated the banners and flags for the Oscar-nominated film Milk, which starred Sean Penn, Josh Brolin, and Emile Hirsch.
Baker continued his designs and worked for the Paramount Flag Company in San Francisco, creating flamboyant window displays. His clients included then-Mayor Dianne Feinstein, the presidents of France, Venezuela, and the Philippines, as well as the King of Spain, according to his website.
He later moved to New York City and created a mile-long rainbow flag for the 25th anniversary of the Stonewall Riots of 1969.
The GLBT Historical Society asked that rainbow flags around the world be lowered to half mast in Baker's memory.
Meanwhile, tributes to Baker flooded social media thanking him for his contributions.
Source: https://www.buzzfeed.com/usnews.xml