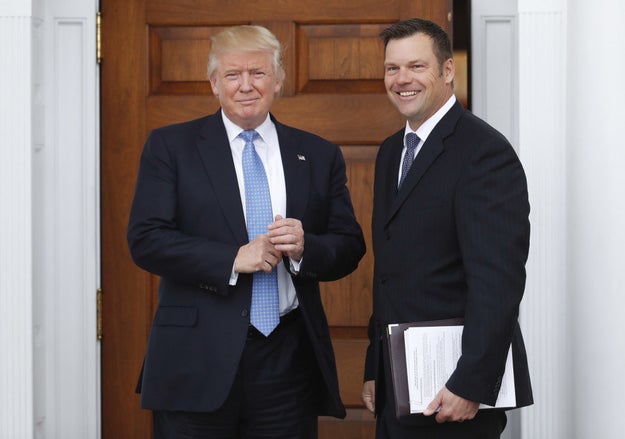 Trump and Kobach
AP
President Trump is expected to sign an executive order on Thursday to investigate alleged voter fraud and suppression in US elections — months after he claimed, with zero evidence, that millions of people voted illegally in the 2016 election.
"The Commission will review policies and practices that enhance or undermine the American people's confidence in the integrity of Federal elections — including improper registrations, improper voting, fraudulent registrations, fraudulent voting, and voting suppression," a White House official said.
Vice President Mike Pence and Kansas Secretary of State Kris Kobach will be named chair and vice-chair of the commission.
Kobach's press secretary did not respond to an email asking for comment.
In the aftermath of the 2016 presidential election, Trump claimed — without no evidence — that widespread voter fraud lead to Hillary Clinton receiving 3 million more popular votes than he did. Trump won the presidency via the Electoral College.
Days after his inauguration, Trump said in a series of tweets that he planned to launch a "major investigation" into voter fraud.
This is a developing story. Check back for updates and follow BuzzFeed News on Twitter.
Source: https://www.buzzfeed.com/usnews.xml