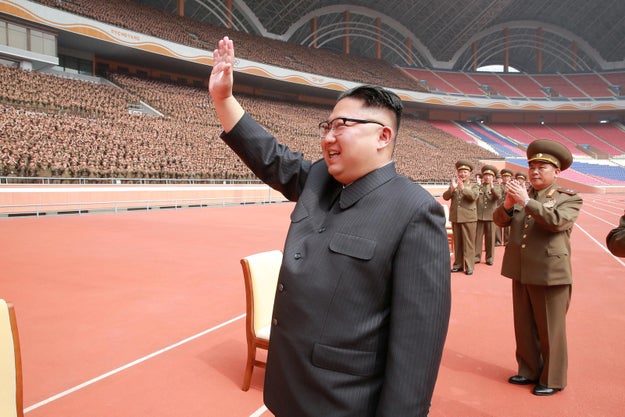 Kcna / Reuters
North Korea has fired an unidentified projectile from the Kusong region near the country's west coast, South Korean military officials said early Sunday. Though the military had not confirmed the nature of the projectile, South Korea's Yonhap News Agency reports that it appeared to be a ballistic missile.
The launch, if confirmed to be a ballistic missile test, would be the first since North Korea's failed attempt to fire a missile on April 29. It would also be the first provocative act by North Korea since South Korea's new president, Moon Jae-in, was sworn into office last week.
The launch comes at a time of heightened tensions on the Korean peninsula, and as the US attempts to make a show of force in the region to slow the advancement of Pyongyang's nuclear and ballistic missile programs. North Korea has attempted at least nine missile launches since US President Donald Trump took office in January.
The projectile launched Sunday flew 700 kilometers, according to the South Korean military.
"Our military is closely monitoring for provocative movements by North Korea and is maintaining all readiness postures," the military said in a statement.
This is a developing story.
Source: https://www.buzzfeed.com/usnews.xml