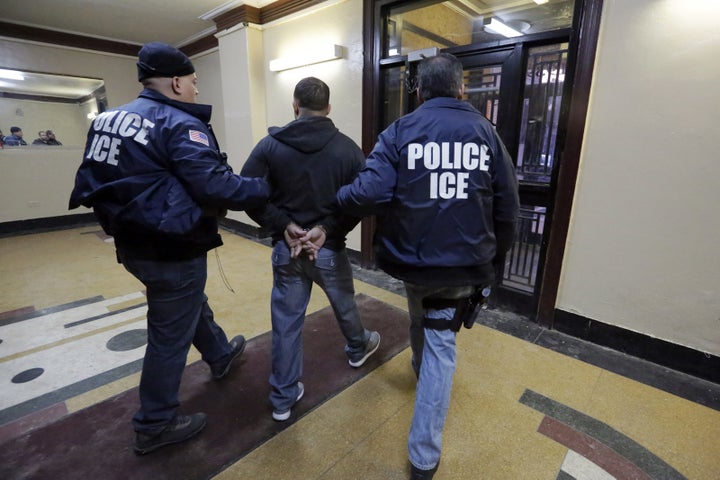 Richard Drew / AP
Federal officials in Detroit used a secretive tool known as a "Stingray" — which tricks cell phones into revealing their location — to find an undocumented man for deportation.
The cell-site simulator has been used in the past by federal and local law enforcement to find murder suspects, kidnap victims, drug dealers and terrorists — but sometime in March, FBI and ICE officials used it to find a 23-year-old native of El Salvador to deport him.
It is the first known instance of the device being used in immigration enforcement, and its set off bells among civil rights advocates, who worry its use could signal a ramp up of immigration enforcement using invasive technology.
"We're troubled to see evidence of ICE using invasive surveillance equipment for immigration enforcement purposes, especially given this administration's hyper-aggressive approach in this area," American Civil Liberties Union attorney Nathan Freed Wessler said in a statement.
FBI and ICE officials filed for a search warrant to use a cell-site simulator — commonly referred to as a "Stingray" because of an early model of the devices — on March 9, to find Rudy Carcamo-Carranza.
According to the warrant, Carcamo-Carranza was deported in 2012 and 2015 to El Salvador, but returned to the US.
In Feb. 28, 2016, he was arrested in Shelby Township, Michigan, on suspicion of hit-and-run, but was released by local police before he was detained by ICE agents.
According to the warrant, federal officials got a search warrant to go through his Facebook account, where they were able to find the 23-year-old's cell phone number from a private message.
Authorities then used the cell phone number to obtain a second search warrant, this time to use a "Stingray" to find his location.
ICE officials declined to comment about how often cell-site simulators are being used in the agency's immigration enforcement operations, or if this was a new tactic in the department's enforcement.
"ICE officers and special agents use a broad range of lawful investigative techniques in the apprehension of criminal suspects," Kaalid Walls, a spokesman for ICE in Michigan, told BuzzFeed News in a statement. "Cell-site simulators are invaluable law enforcement tools that locate or identify mobile devices during active criminal investigations.
Walls also declined to discuss the agency's use of social media accounts to locate Carcamo-Carranza.
There are already signs that federal officials have ramped up immigration enforcement under the Trump administration, including what appears to be an increase in public raids of undocumented immigrants.
Detaining people in courts and threatening to withdraw federal funding from sanctuary cities are among some of the new tactics that appear to have been put into practice under the new administration.
Earlier this week, US Immigration and Customs Enforcement announced more than 41,000 immigrants have been deported during the first 100 days of the Trump administration, a 38% increase compared to last year.
Now "Stingrays" appear to have been added to ICE's border enforcement arsenal.
The cell-site simulators are known to work by acting like cell phone towers and tricking nearby cell phones to send and retrieve information, including its location.
Some models are known to be small enough to be handheld.
Still, the devices have remained behind a secretive cloud by law enforcement agencies, some of which still decline to even confirm or deny whether they have purchased and used the devices.
In 2015, the Department of Homeland Security changed its policy to require a search warrant before using the device.
On Thursday, the ACLU filed a Freedom of Information Act request to find out more about their use of the devices in immigration enforcement.
"It's crucial that the government release this information so the public can understand how immigration authorities are using Stingrays and what limits they're placing on this technology," the request read.
LINK: Immigration Arrests By ICE Up Nearly 40% Since Trump's Executive Order
LINK: Homeland Security Now Requires A Warrant Before Tracking Your Cell Phone
Source: https://www.buzzfeed.com/usnews.xml