The teen was arrested for assaulting a police officer in San Antonio.
The San Antonio Police Department is investigating an incident captured on video that appeared to show a cop striking a 14-year-old girl — who was then arrested for assaulting an officer.
[youtube https://www.youtube.com/watch?v=_yxN3WZ_z80&w=560&h=349]
Police on Saturday responded to calls of a fight between two men at a quinceanera — a traditional Hispanic celebration of a girl's 15th birthday.
After the altercation, police arrested the 14-year-old — who was unidentified — on a charge of assaulting a public official.
However, a video taken by an eyewitness at the party appeared to show one of the officers striking the girl as two other cops appeared to forcibly restrain her.
Her mother, who also appeared to be restrained by officers, was heard screaming.
Police are now investigating the events leading to the teenager's arrest.
In a statement Monday night, SAPD Chief William McManus said, "Per SAPD policy, the events leading up to the arrest of the juvenile for assaulting a public official is being investigated to ensure compliance with Department policies."
According to police, the teen assaulted the officer during an altercation that broke out between several juveniles at the party.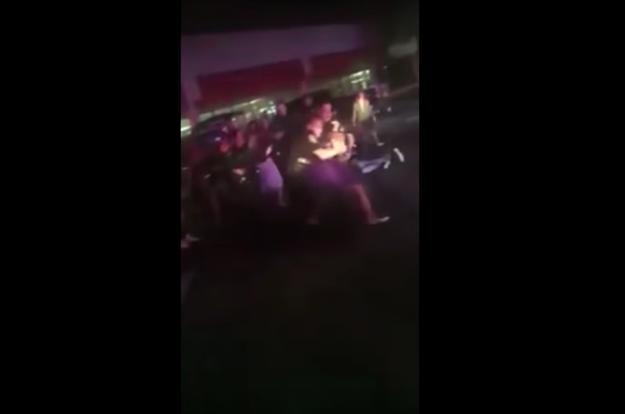 According to the police report provided to BuzzFeed News, a large crowd had gathered around the officers at the party.
"The crowd got upset with witnessing our actions and they all appeared to be on the verge of interfering," the police report said.
Police said that the teen's mother, who was upset over someone assaulting her daughter, was pulled over to the side by an officer and asked to calm down.
The teen's brother took off his shirt and began "acting very aggressive," the report said. He looked up at one of the officers who handcuffed him and said, "I'm going to kill you," according to the report.
Police also handcuffed their mother but later released both her and her son.
Only her teen daughter was arrested.
The report did not indicate that she had been struck by any of the officers.
Her lawyer, Artessia House, denied that the teen struck the officer. House told the San Antonio Express News that the teen was an honor-roll student with no history of violence. She said that one officer in the video could be seen "clear as day" striking the teen.
House did not respond to BuzzFeed News' request for comment.
Source: https://www.buzzfeed.com/usnews.xml