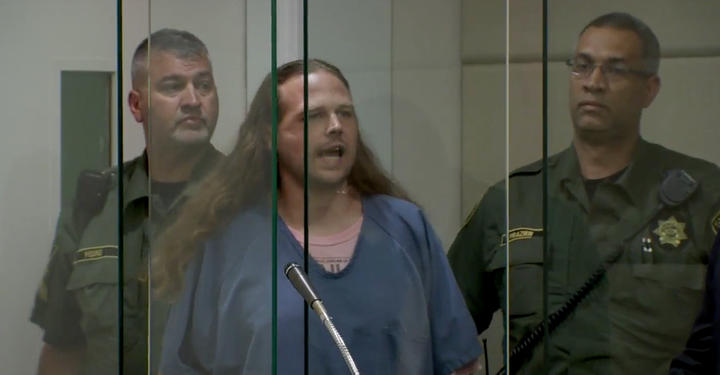 Pool via KATU
The man accused of killing an Army veteran and a recent college graduate on a Portland train shouting about patriotism, free speech, and the enemies of America in his first court appearance on Tuesday.
Jeremy Christian, a 35-year-old known locally as a white supremacist, was scheduled to be arraigned on charges that include aggravated murder. He charged in Friday's killings of 53-year-old Ricky John Best and 23-year-old Taliesin Myrddin Namkai Meche, two men who stood up to Christian as he yelled at a Muslim teenager and her black friend.
As deputies led him into the courtroom, Christian began to rant.
"Free speech or die," he shouted. "This is America, get out if you don't like free speech."
He continued calling for death to the "enemies of America," including anti-fascists. Several men who appeared to be antifa protesters stood outside the hearing, and as a friend of Christian's from prison arrived, they chased him away.
As people outside the courtroom began to shout, deputies led Christian away through the secure back door. He did not make a plea, and the judge moved on to hear other cases.
In the audience was Micah Fletcher, who also tried to intervene in Friday's attack and was injured. Stitches and bruising were visible on his neck; Christian had slashed at all three men's throats, according to people at the scene.
Earlier Tuesday, the 21-year-old poet and student released a statement, ABC News reported.
"I want the Muslim community to know that they have a home here in Portland and are loved," he said. "I want to honor the families who lost their brave fathers, sons and brothers, and I want the media and the country to honor those families. I want to send my condolences and honor those families."
LINK: These Are The Victims Of The Portland Train Stabbing Attack
LINK: Man Yelling Hate Speech On Portland Train Kills Two Men Who Try To Intervene, Police Say
Source: https://www.buzzfeed.com/usnews.xml