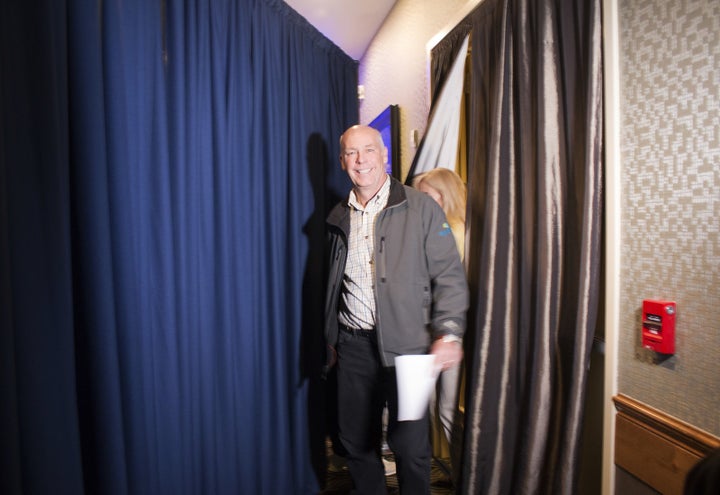 Bobby Caina Calvan / AP
Tech millionaire Greg Gianforte, who won a special election to represent Montana in the US House of Representatives, is expected to plead guilty to assaulting a journalist at a campaign event.
The Billings Gazette first reported that Gianforte and prosecutors were exploring a plea agreement for the misdemeanor charge of assault that could result in a no contest plea. However, on Friday, Gallatin County Attorney Marty Lambert told the Associated Press that Gianforte would plead guilty at a court hearing scheduled for Monday.
Gianforte did not immediately return a request for comment. But on Wednesday, he released a lengthy apology letter that he had no cause to assault Guardian reporter Ben Jacobs. Gianforte added that he would donate $50,000 to the Committee to Protect Journalists.
On May 24, Gianforte staff and volunteers gathered for the Republican's final campaign event. The special election had been closely watched by local and national media, and a number of reporters were present.
While Gianforte was in an office with members of a Fox News crew, Jacobs approached and asked a question about health care. In response, Gianforte "body slammed" him, Jacobs said, an account that was later corroborated by the Fox News reporter.
[youtube https://www.youtube.com/watch?v=KQwu4wff7lI&w=560&h=349]
Initially, Gianforte's spokesman said Jacobs had been aggressive toward the candidate. In his apology, Gianforte discounted that as false.
"Notwithstanding anyone's statements to the contrary, you did not initiate any physical contact with me, and I had no right to assault you," Gianforte wrote.
The apology letter was part of an agreement with Jacobs to settle any civil claims, the Guardian reported.
"I have accepted Mr. Gianforte's apology and his willingness to take responsibility for his actions and statements," Jacobs said in a statement sent to BuzzFeed News. "I hope the constructive resolution of this incident reinforces for all the importance of respecting the freedom of the press and the First Amendment and encourages more civil and thoughtful discourse in our country."
Gianforte is expected to be sentenced on Monday. The charge carries a maximum sentence of six months in jail and a $500 fine. Lambert did not immediately return a call about the terms of a plea agreement.
LINK: Republican Candidate Charged With Assaulting Reporter At A Campaign Event
Source: https://www.buzzfeed.com/usnews.xml