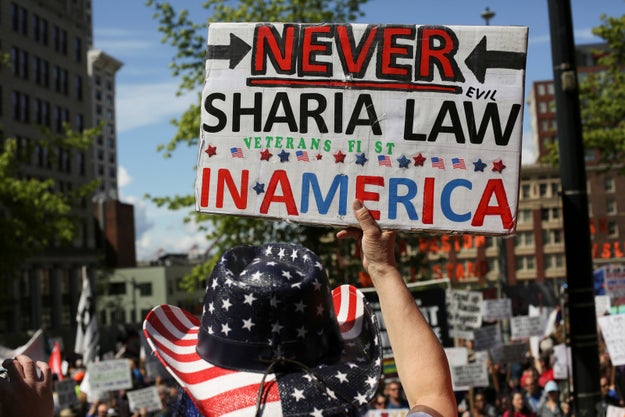 A protester holds a sign during an anti-Sharia rally in Seattle, Washington.
David Ryder / Reuters
NEW YORK CITY — A prominent anti-Muslim group held "marches against Sharia" here and in cities across the US on Saturday, but were greeted by passionate counter-protesters.
The anti-Islam marches were held to "increase awareness about certain practices that are starting to happen in our country with the rise of Islamic immigration," said Brigitte Gabriel, head of the anti-Muslim group Act for America.
The event at Foley Square in Downtown Manhattan, the location for the anti-Muslim event in New York City, drew around 150 people.
Attendees varied from pro-Trump supporters, members of the alt-right, far-right militia members, and members of Act for America.
Rallies were scheduled for 28 cities in 21 states across the country. Social media showed demonstrators turned out in Atlanta, Seattle, Austin, Indianapolis, Orlando, and San Bernardino, California, among others.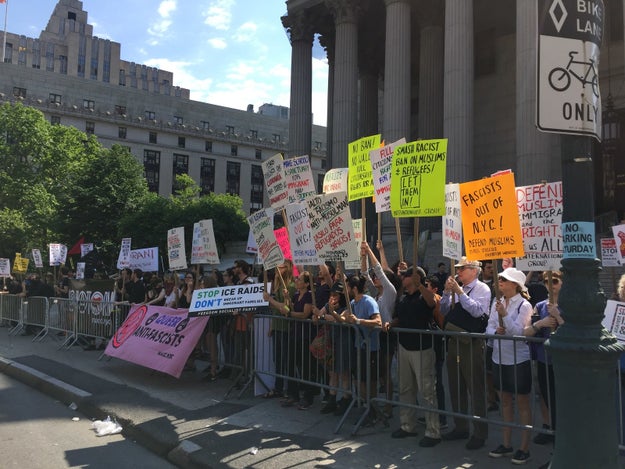 Counter-protesters in Manhattan on Saturday.
Talal Ansari/BuzzFeed News
But the New York City rally also brought out a large number of counter-protesters, including people who were part of anti-fascists groups, Muslim and Jewish organizations, and attendees who were against the anti-immigrations policies of Donald Trump.
Throughout the day, anti-Sharia marchers and their counterparts attempted to confront one another, but a heavy NYPD presence keep the two groups physically separated.
Gabriel — who once said "every practicing Muslim is a radical Muslim" — founded the group Act for America in 2007. She has since embarked on a tireless campaign against what she says is the threat posed to the US by Islam and Muslims.
Act, which has been labeled an extremist group by the Southern Poverty Law Center, claims to have over half a million members and over 1,000 chapters.
In March, Gabriel had a meeting with a member of the Trump administration's legislative staff at the White House.
Brigitte Gabriel at the White House.
Brigitte Gabriel / Via Facebook: ACTBrigitte
The group has also had the support of prominent US legislators, including Senator Ted Cruz (who spoke at an Act event in September 2016) and Rep. Peter King. Michael Flynn — whom President Trump fired as national security adviser for lying about communicating with Russian officials — called Islam a "cancer" at an ACT meeting and is a member of the group's board.
"We are not going to allow Sharia lifestyle in America, or your leaders preaching hate and mosques harboring terrorists," Gabriel said in a video posted to Facebook just days before the Saturday protests.
In the video Gabriel links acts of terrorism, female genital mutilation, and honor killings — often cultural and individual acts — to Islamic jurisprudence, or Sharia. The instances of female genital mutilation in the US which Gabriel mentions in the video involve members of the Dawoodi Bohra sect of Islam — a sect within the branch of Shia Islam that accounts for just over a million people worldwide.
Sharia — a religious code of conduct, no different than those contained in other Abrahamic religions — has been used in recent years as a fear-inducing term associated with anti-Western beliefs.
Sharia is similar to the canon law of the Catholic Church or the requirement that those who follow Judaism eat kosher foods. But that hasn't stopped anti-Sharia laws being passed in 10 states, with dozens more proposed in the last decade — although, the vast majority of these failed to pass or reach the point of a vote.
In New York, former Vice co-founder Gavin McInness, who has devoted his time to being the leader of a far-right group called Proud Boys and is a self-described "Western chauvinist," headlined the event.
"The left has chosen radical Muslims as allies," McInnes said in a speech that lasted under 10 minutes and which was riddled with generalizations, inaccuracies, and jokes about Sharia.
McInnes also spoke in May at a rally calling for the City University of New York to cancel a commencement speech by Linda Sarsour, a prominent Muslim-American activist and co-organizer of the Women's March.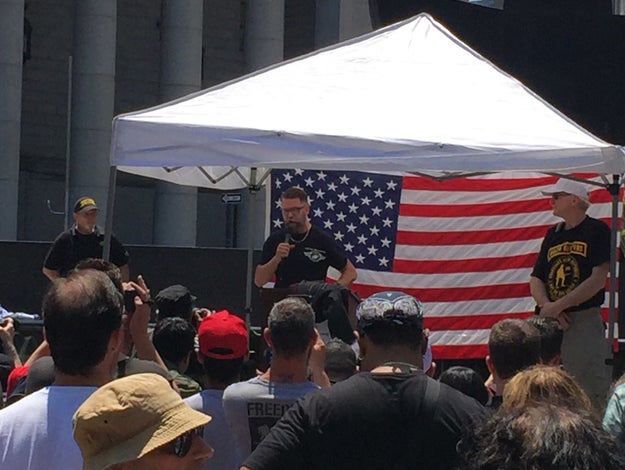 Talal Ansari/BuzzFeed News
Also speaking at Saturday's event was Frank Morganthaler, the vice-president of the New York chapter of the far-right militia group, the Oath Keepers. Later in the day, Morganthaler suffered what appeared to be a heart attack and was treated by emergency workers. The president for the New York chapter of the militia later told BuzzFeed News that Morganthaler was "conscious and responsive."
Four days before the event, Act had to cancel one of the scheduled rallies in Arkansas because of "disturbing associations with white supremacist groups," who began promoting the event, according to Act.
The "March Against Sharia" scheduled for Portland was also moved to Seattle in the wake of the stabbing deaths of two men killed after Portland police said they stood to a known white supremacist who was yelling anti-Muslim insults at two women.
Talal Ansari/BuzzFeed News
On Thursday, five Democratic members of the House of Representatives, including Deputy Chair of the Democratic National Committee Rep. Keith Ellison, denounced the marches, calling them "hateful."
"We call on Donald Trump, President Steve Bannon, and everybody else to stand up and denounce this hateful activity," Ellison said at Tuesday's press conference at the US Capitol.
"Act for America is a hate group. Period. Its rallies are hate marches. Full stop," said Corey Saylor, director of the Council on American-Islamic Relations' anti-Islamophobia department. "We encourage all Americans who value religious freedom and reject bigotry to take part in peaceful and lawful local activities challenging these hate rallies."
Source: https://www.buzzfeed.com/usnews.xml