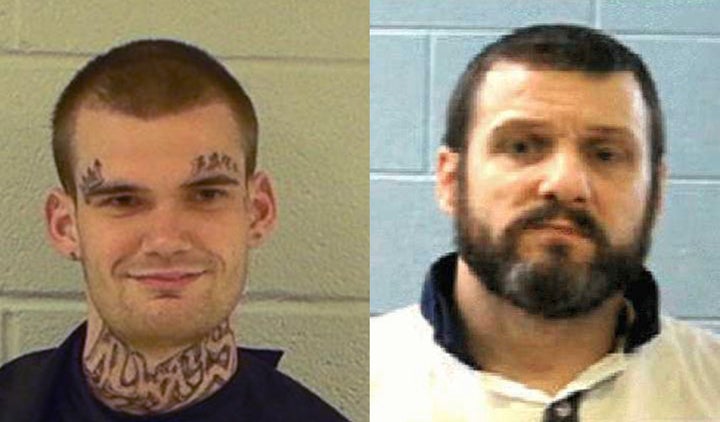 Ricky Dubose, left, and Donnie Russell Rowe
AP
Not long after sunrise Tuesday, a prisoner transport bus was driving along a rural highway in central Georgia when two inmates onboard managed to break through the gate separating prisoners from guards.
The two inmates were among 33 prisoners in the back of the bus. Up front, protected by what was supposed to be a locked metal gate, sat a pair of armed guards. Investigators still don't know how two inmates breached the gate, but they do know what happened next: The two prisoners overpowered the guards, stole their guns, and shot them to death.
"I saw two brutally murdered corrections officers, that's what I saw," Putnam County Sheriff said during a Tuesday news conference. He choked back tears as he added, "I have their blood on my shoes."
Sills identified the prisoners as Ricky Dubose, 24, and Donnie Russell Rowe, 43. Greg Dozier, commissioner of the Georgia Department of Corrections, said one of the men is a "validated gang member," though he did not specify whom. Both men were serving time in Baldwin State Prison in Milledgeville, Ga., for armed robbery, according to the corrections department.
After shooting the two guards, Dubose and Rowe carjacked the "first car that came by," Sills said, — a green, 2004 Honda. The escapees pointed their guns at the man driving the car, but left him unharmed as they stole his car and drove off to the west.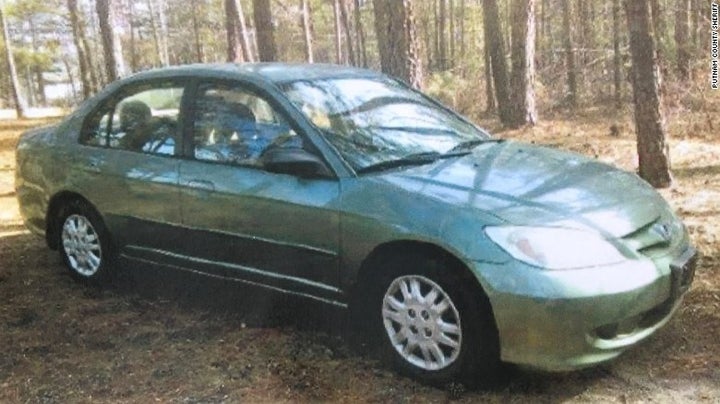 The car the two inmates stole after allegedly killing their guards.
Oconee County Georgia Sheriff's Office / Via Facebook: oconeesheriff
The violent escape prompted a massive manhunt. By Tuesday afternoon, state and federal agencies were offering a $60,000 reward for information leading to the men's capture, and the FBI said that figure would grow.
In the meantime, authorities did not know where the location of the inmates. Sills told reporters he believed they had left the county, and that the search had extended to "everywhere in America."
Dubose and Rowe, he said, might try to break into homes and steal clothing, so police were focusing on identifying those kinds of incidents. His biggest concern Tuesday was that "they're going to kill somebody else."
"They are dangerous beyond description," Sills added.
Sills also said both men were still armed Tuesday with the Glock pistols they stole from the murdered guards.
The men were later seen heading toward Spalding County, several jurisdictions over from Putnam County, according to the Spalding County Sheriff's Office.
In a Facebook post addressed directly to the men, the nearby Oconee County Sheriff's Office encouraged the inmates to surrender because "you won't be out for long."
"Every lawman in the Southeast is looking for you," the sheriff's post said. "Every citizen in the Southeast is looking for you. You may have help hiding out for a few days, but someone is going to snitch you out and then we will find you. There is no one you can trust…and no where you can go that we won't find you."
Investigators Tuesday also were working to figure out exactly how the inmates made their escape. The bus transporting the men was a new model, and Dozier said that it was standard protocol to have two armed guards inside, protected by a locked gate.
The bus also is equipped with security cameras, though Sills said authorities already know who killed the guards and reviewing the video Tuesday was not as important as "finding these two escaped, dangerous convicts."
The guards killed in the incident were both sergeants and veterans of the corrections department. Curtis Billue, 58, had been a guard since 2007 and Christopher Monica, 42, joined the department in 2009.
"Both officers," the corrections department said in a statement, "were known for their unwavering commitment to their job and their love of family."
In a statement Tuesday, Virginia Gov. Nathan Deal called the two inmates "cowards" who committed "a heinous and senseless act of violence." Deal promised the men would see justice.
"No effort will be spared in pursuit of the killers," Deal said, "and no state resources required in this endeavor will be spared."
Source: https://www.buzzfeed.com/usnews.xml