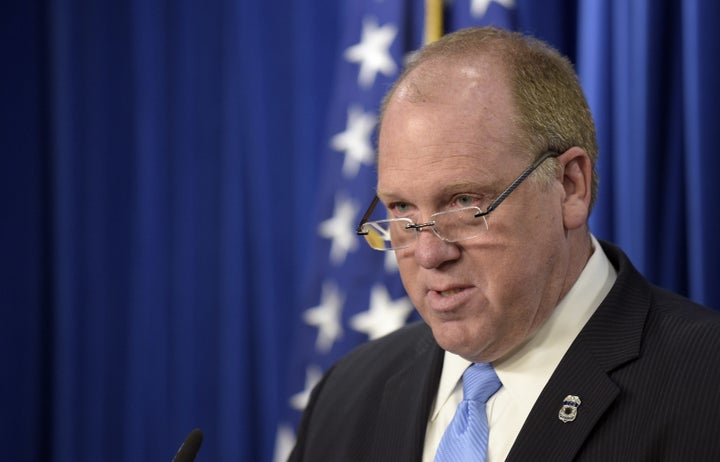 Susan Walsh / AP
Immigration and Customs Enforcement Director Thomas Homan told a congressional committee Tuesday all undocumented immigrants in the US "should be uncomfortable" and "looking over (their) shoulder" when it comes to who could be deported by the federal agency.
"In the country I grew up in, if you're violating the law you should be uncomfortable," Homan testified Tuesday before the Homeland Security subcommittee of the House Appropriations Committee. "He should be looking over his shoulder if he's in this country in violation of the law and ordered removed. He should be worried that he's going to be arrested."
Homan's response came after questions from New York Rep. Nita Lowey, who questioned the ICE director about the detention of 19-year-old Diego Ismael Puma Macancela who was detained hours before his senior prom and days before his high school graduation.
Lowey, who said Macancela had not broken the law, has asked for ICE not to deport the 19-year-old.
Homan however, disputed the congresswoman's argument, saying Macancela broke the law by entering the country illegally.
"By entering the country illegally he committed a crime," he said. "There should be no population of persons that are in this country illegally, who violated the law, then had a final decision from a judge, who feel comfortable he doesn't have to worry about being arrested."
[youtube https://www.youtube.com/watch?v=https://youtube.com/watch?v=pjDybSnHlWo&t=1&w=560&h=349]
Federal immigration detentions have been on the rise under the Trump administration, increasing nearly 40% in the first 100 days of his presidency.
Part of that increase is due in part to what many have seen as a shift in the agency to not just focus on immigrants with violent criminal histories, but minor crimes as well. Attorneys have also pointed to undocumented immigrants who have been detained without any criminal history.
Homan confirmed ICE has indeed expanded the scope of immigrants targeted by the federal agency and is using more aggressive tactics to do so, including targeting immigrants in court houses.
"What's changed in January under the new executive orders is we've opened the aperture up of who are are looking to detain and remove," Homan told the committee. "Hundreds of thousands of illegal aliens who have had their final orders are now back on the table."
As part of that expansion, Homan testified before the committee to receive funding to add another 22,000 beds to ICE detention facilities, saying he had no doubt the agency would be able to fill those beds in the future with increased detentions.
LINK: More Than Half Of Immigrants Arrested In ICE Raids Had No Criminal Record Or Traffic Convictions
LINK: Immigration Arrests By ICE Up Nearly 40% Since Trump's Executive Order
Source: https://www.buzzfeed.com/usnews.xml