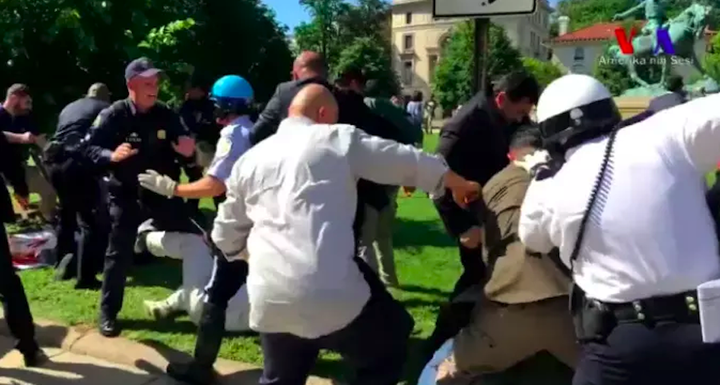 VOA / Via Twitter: @VOATurkish
Two people have been arrested in connection with a massive brawl outside the Turkish embassy last month in Washington, DC.
Washington, DC, police spokesperson Rachel Reid told BuzzFeed News that two men had been arrested. Sinan Narin was charged with a felony and misdemeanor for assault. Eyup Yildirim was charged with two felonies and a misdemeanor, also for assault.
Reid said both men are US citizens. Yildirim is from New Jersey, where is he currently awaiting extradition, and Narin is from Virginia. Police did not say where the men were arrested or how police zeroed in on them in the weeks following the fight.
The brawl erupted on May 16 during a protest outside the embassy shortly after Turkish President Recep Tayyip Erdogan met with President Trump at the White House. Video footage showed armed men in uniforms and suits assailing demonstrators as a handful police scrambled to subdue the crowd.
Video footage also showed Erdogan standing nearby watching the violence from behind a wall of security guards.
[youtube https://www.youtube.com/watch?v=cSY-uFYveMo&w=560&h=349]
In the aftermath, the State Department confirmed that Turkish security personnel were involved in the altercation. Four days after the incident, Turkey's official press agency, Andalou Agency, provided a version of the events where they admitted the president's security detail and Turkish police were involved in the attack.
A woman also told BuzzFeed News that one of Erdogan's body guards held her neck and threaten to kill her during the clash.
At least 12 people, including one police officer, were ultimately injured in the brawl. Two people were arrested at the scene.
Police did not say Wednesday what role Yildirim and Narin played in the fight or what connection, if any, they had to Erdogan and the embassy.
However, the New York Times previously identified both men in video footage of the fight. Narin can be seen wearing a suit and kicking a woman on the ground, and he later told the Times he was defending himself. The video also shows Yildirim kicking a woman on the ground. According to the Times, he manages three companies in New Jersey, and Narin owns property in Virginia.
The fight drew widespread condemnation in the US. The Washington, DC, police department said in a statement that the fight stands "in contrast to the First Amendment rights and principles we work tirelessly to protect each and every day." And the State Department said that "violence is never an appropriate response to free speech."
LINK: Woman Says Turkish President's Bodyguard Choked Her And Said "You're Dead" During Embassy Protest
LINK: Video Shows Turkish President Erdogan Watching Brutal Fight Outside Embassy In Washington
LINK: Turkish Media Is Blaming DC Police For That Attack On Protesters By Erdogan's Bodyguards
LINK: Turkey's President Wanted The US To See Him Differently. Then A Fight Broke Out.
Source: https://www.buzzfeed.com/usnews.xml