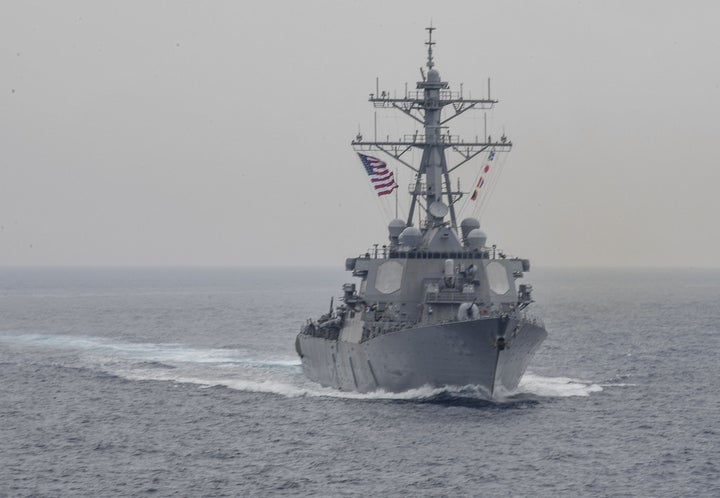 The USS Fitzgerald.
US Navy
Seven US sailors were missing early Saturday after their destroyer collided with a container ship off the coast of Japan, a local broadcaster reported.
The collision happened at 2:30 a.m. local time and involved the USS Fitzgerald, an Arleigh Burke-class destroyer, and a "merchant vessel," according to the US Navy. The Japanese Coast Guard was at the scene assisting.
Japanese news agency NHK reported, citing the coast guard, that in addition to seven missing US sailors, one was injured in the crash. Neither Japanese nor American authorities immediately clarified what might have happened to the missing sailors.
The US 7th Fleet tweeted that the other ship involved was the ACX Crystal, a 29,000-ton container vessel from the Philippines. Reuters described the ACX Crystal as three times the size of the Fitzgerald.
The US Navy was still working to determine the number and extent of injuries Saturday morning, but reported that one sailor was being evacuated via Japanese Coast Guard helicopter.
It was not immediately clear what caused the collision.
In the aftermath, however, the Navy said the Fitzgerald suffered damage on its starboard side, above and below the water line. The ship also experienced some flooding, but was operating under its own power, albeit with limited propulsion.
The US deployed a ship and tug boats to assist the Fitzgerald after the collision, and was preparing aircraft as well.
The Fitzgerald was launched in 1994. Last month, Cmdr. Bryce Benson took over leadership of the vessel.
According to the Navy, the Fitzgerald is one of eight destroyers "forward-deployed to Yokosuka, Japan, supporting security and stability in the Indo-Asia-Pacific region."
This is a developing story. Check back later and follow @BuzzFeedNews on Twitter for updates.
Source: https://www.buzzfeed.com/usnews.xml