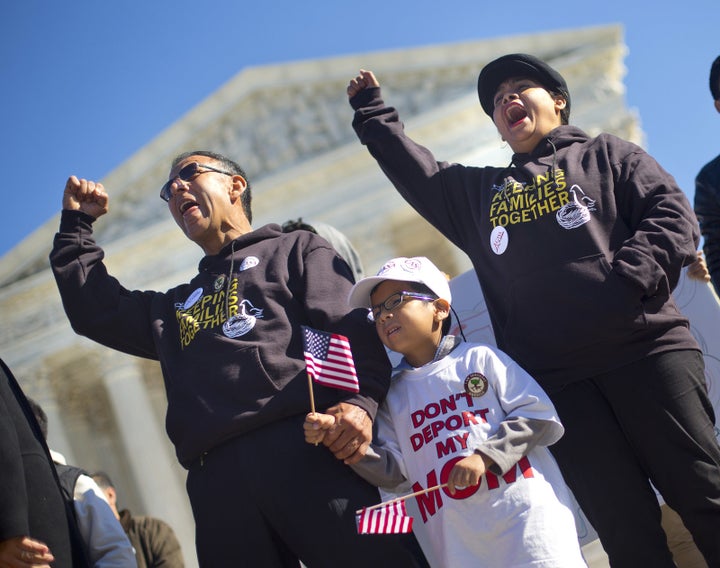 Pablo Martinez Monsivais / AP
Homeland Security Secretary John Kelly on Thursday put an official end to an immigration order created under former President Obama that would have allowed undocumented parents of citizens and legal residents to remain in the country for three years.
The plan was never implemented and was put in a permanent state of limbo after 26 states challenged the order. In October, the US Supreme Court declined a request from the Obama administration to rehear the case.
The Deferred Action for Parents of Americans and Lawful Permanent Residents, or DAPA, could have affected millions of undocumented immigrants with children in the US who are citizens or legal residents.
Those who have lived in the US since at least Jan. 1, 2010, would have been allowed to apply for permission to work.
Texas Democratic Congressman Joaquin Castro criticized the decision, saying it would harm American families.
"President Trump has chosen to separate American children from their parents, causing harm and suffering," Castro told BuzzFeed News.
Like the Deferred Action for Childhood Arrivals program, it did not create a path of citizenship for those affected, but would have taken the possibility of deportation off the table for at least three years.
Kelly, an appointee of President Trump, rescinded the 2014 order on the five-year anniversary of the implementation of the DACA program.
The order, the statement noted, was placed on hold under a decision from the US District Court for the Southern District of Texas. The Fifth District Court of Appeals upheld that court's decision, and the Supreme Court declined to hear the case, leaving the decision in place.
According to the statement from DHS, the order was withdrawn after Kelly consulted with the Department of Justice and determined "there is no credible path forward to litigate" the order.
The DACA program will remain in place, the statement read.
Kelly's decision came to no surprise to immigration right's advocates, considering the Trump's administration's stance to increase the number of deportations and widen the net of undocumented immigrants considered a priority for deportation.
The decision not to defend the DAPA order in court, however, has continued to feed immigration advocates' concerns over what the Trump administration might do in respect to DACA.
LINK: Trump's Attorney General Says DREAMers Can Be Deported
LINK: The Mixed Messages Of Trump's "Heart" On Immigration
LINK: Supreme Court Ends Last Hope For Obama's Immigration Actions
Source: https://www.buzzfeed.com/usnews.xml